Approximately 16L mangoes remain unsold at Market Yard; farmers incur a loss of `2-3 crore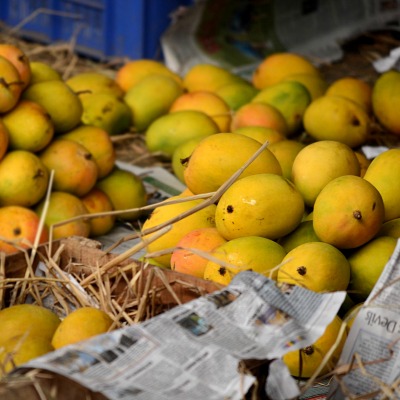 Pune: Sixteen lakh mangoes! Yes you have read it right. That's how much stock was lying unsold on a single day on Monday, if city based commission agents' association is to believed. A loss of Rs 2-3 crores to mango farmers alone in last couple of days, set aside the losses to mango wholesalers and retailers.
With crackdown on carbide ripened fruit and nearly 90 per cent mango stock coming in unripened, experts say wholesalers are not taking a chance to wait for more than 10 days for natural ripening of the fruit and simply refuse to buy unripened fruit.
President of the Market Yard Commission Agents' Association Shivlal Bhosale said, "On Monday, a total of 35,000 mango crates were brought in the Market Yard, but only the ripe ones which accounted for not more than 10 per cent of the stock was sold." When the farmers start incurring huge losses, according to market committee norms, market must buy the product from the farmer and sell it out but it is not yet been observed in the mango case.
Now that approximately only three weeks of the mango season is remaining, the norms laid down by the government for natural ripening of the fruit would do greater harm. "Natural ripening of the fruit takes 8 to 10 days minimum. With less space available and more demand, carbide was used by many wholesalers until now. The Food and Drugs Association suggested an alternate method of using ethanol for ripening of the fruit but this needs a huge space which we don't have and government should provide," said Nathasaheb Khaire, a mango wholesaler.
The Karnataka mango is bringing in more trouble for dealers as compared to the Ratnagiri Alphonso. Satish Urasal, a mango wholesaler in Market Yard said, "The mangoes coming from Karnataka are in a higher loss as compared to the Ratnagiri Alphonso. The rate of Rs800 to Rs1000 per crate of Karnataka mango has drastically gone down to 300 to 400 rupees per crate. The retailers, who bought at least 2000 to 3000 craters from us, have not made any deals for the past few days."
As far as the retailers are concerned, the unripened mangoes is not their major issue. It is the end users who have reduced buying the fruit that is causing them the loss and hence, they have stopped stocking up more fruit. "Every customer is asking us if we have used carbide or not. They have developed a mental block because of which the sales have come down by at least 70 per cent," informed Anna Harale, a fruit dealer.