Pune, Maval, Baramati and Shirur see an increased voter turnout , compared to the last elections.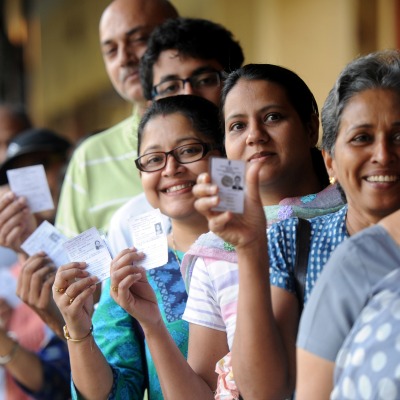 Pune
Thursday morning the city was brimming with enthusiasm as voters including youngsters, senior citizens and women queued up right from the moment poll booths set up shop. Save for a few voting booths, the poll process in Pune commenced at 7 am. When it concluded by 6 pm, Pune recorded a high voter turn out at 53.46%, as compared to 39.07% in 2009.
The excitement was palpable in cosmopolitan areas such as Kothrud, Deccan, Koregaon Park, where many citizens turned up for voting right after their morning walk. Even before the voting process started, a number of senior citizens were seen at polling booths.
The middle-class dominated areas witnessed a good start, the voting centers located in slum area saw a low-response initially.
Though the Election Commission had issued clear instruction regarding ramps for easy-approach road for senior citizens and differently-abled persons, these provisions were missing at many voting centers. As the day progressed, the warm weather ensured that people stayed indoors, as a result there was very low turn out during the afternoon. However, the voting process gained momentum by evening, and a record voter%age was registered with heavy voting from slum pockets in city.
Maval
The Maval constituency, which boasts of a mixed urban and rural population witnessed a happening poll day, star-stuck by local celebrities.
As the initial voter turn out was low (just 6.56%) in the first two hours, the day concluded at 62.10%; the highest in the four constituencies around Pune that went to polls. The voter%age jumped by 18% as compared to 2009 Lok Sabha elections.
After stories of missing voter names from Pune made the rounds, people hopped between booths to crosscheck their names, worried if they will get a chance to vote. But people did have to run around, as names appeared in polling stations other than their usual.
Many local citizens, including autorickshaw drivers were seen ferrying free rides in Sangvi and Pimple Saudagar areas for those going to cast votes. Many fake SMSes about bogus voting were making rounds, and the police struggled to assure the public that no such thing.
Additional Commissioner of police (North region) Prakash Mutiyal said, "From Wednesday, till 4pm today, we received 150 calls, and we have planned to take stringent action."
Around noon, it was a heartening sight to see policemen received postal ballot slips as they casted their vote by post.
Baramati
Pawar's bastion Baramati Constituency, where Supriya Sule is contesting for the Nationalist Congress Party (NCP), saw a healthy increase in voter turnout at with 58.20%, compared to the last general elections which had meagre 46.07%. turnout.
In the first half, majority of the polling stations in the rural parts of the constituency saw huge lines of voters as people were in a hurry to return to their farms. However with the mercury rising, the numbers went down and by afternoon, several polling stations wore a deserted look. After 4 pm, voters started making a bee-line to the polling stations.
As majority of the constituency covers rural areas, the female%age compare to the male counterparts was low.
Apart from Sule, Mahadev Jankar from mega-alliance and retired IPS officer Suresh Khopade for Aam Admi Party (AAP) are in the polling fray. There were sporadic cases of voter names missing from the list at some polling stations such as Bhavani Nagar, Sarsan and Morgaon.
The tehsildar of Purandar taluka Sanjay Patil, said that no untoward incident took place in their constituency and everything went smoothly. At six polling stations, six EVMs were replaced, after the officials found some snag in the machines before the actual voting started.
Shirur
Most of the urban pockets fall in the Shirur constituency, and voting here commenced on time. At some polling booths, voters complained of inadequate arrangements by election officials leading to some confusion. At some booths, it was after nearly an hour that voters were asked to form two separate queues, one for casting their vote and another to check names on voters list.
At Laxmibai Magar Municipal School in Hadapsar, 70-year-old senior citizen Dinesh Singh narrated his experience. "There was complete mess at the polling station. After standing for 30 minutes, I was asked to stand in another queue. There was no separate queue for the senior citizens, it took more than an hour to caste my vote," he said.
Vehicle parking for voters was set beyond the 200 to 300 meters from the polling booth, and considering the long queue of vehicles, senior citizens and women were seen walking quite a distance to reach the polling booth. Senior citizens had to take the stairs to booths location on the second floor,as many places didn't have lifts. Raghurag Shetty (75), resident of Magarpatta city said, "Despite the pain in my knees, I had come to cast my vote. However, I had to walk more than 600 meters from the vehicle parking area. It was shocking to see that no arrangements had been made for the senior citizens."
Meanwhile in rural Shirur, the voter turnout was low in the morning but things picked up by evening. With 18 polling booths falling under it, Chakan village was the key town for all candidates and it is considered an important in the Khed taluka.