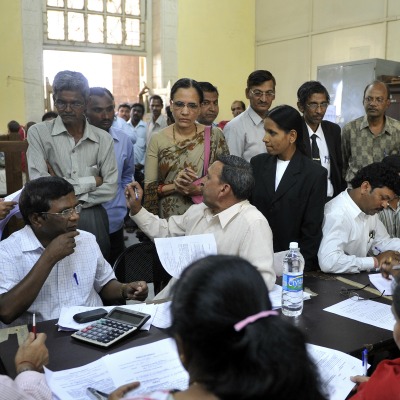 Pune: With as many as 1,09,056 cases being settled in a day, Pune managed to keep its top spot in the state at this years' mega national-level Lok Adalat on Saturday. Panel members from various courts, including family courts, consumer forum and accident tribunal were present. Over Rs30 crores have been recovered by various banks in cases of credit card and other loan repayment defaults, said Mahesh Jadhav, secretary to the district legal services authority.
Rs1.5L cheque defraud case settled two decades later
He was in his 30's with a new business in hand, when he lodged a criminal complaint against his neighbour for defrauding and bounced cheques worth Rs 1.5 lakh. At 55, small-time businessman from Hadapsar, Shavalaram Ghorpade decided to settle the case. However, the Rs70,000 settlement that has been awarded by bench of judicial magistrate (First Class) V V Muglikar isn't enough to cover even his lawyer's fees, cost of travel and loss of business hours over last two decades.
"In 1992, my neighbour borrowed money to buy a land but refused to pay. Since then, I am fighting in court. I wanted to settle this, so I that donot have to visit court in old age," Ghorpade said, who was represented by B S Muzaffar.
Claims bring tears
For the last three years, bank manager Chintamani Deshmukh's widow who died in a luxury bus in a road accident, has been fighting for compensation. The bus that her husband was travelling in was hit by a truck, but neither parties were ready to accept responsibility.
Vrushali Deshmukh represented by lawyer G P Shinde fell short of words, when panel members judge A S Deshmukh and Ashok Sankpal instructed insurance companies of tourist bus and truck to both pay her a compensation of Rs 21 lakh each. "My faith is restored, god gives justice to the innocent," she said. Claim worth Rs38.50 lakhs was awarded to Rupali Tikundane, whose husband was knocked down by a truck on September 2012.
The most poignant case was of 25-year-old Sujata Pawar, whose husband died in an accident, where she too was injured on March 24, 2013. In the hospital she learnt that she was pregnant and her husband had died. Represented by lawyer Kanchan Dhamankar, Sujata was awarded Rs 14.80 lakh as she broke down.
Kahin khushi, kahin gam
Pune's family court was greeted with mixed emotions where 30 of 164 cases were settled. In one case, a 61-year-old was finally divorced from his 55-year-old wife, whom he deserted 38 years ago.
In another case, when the daughter of a separated couple was up for a custody battle, the girl said she wished to live with both, as she misses the other at all times. On hearing this, the mother started weeping and the couple was asked to take an ice-cream break, with the child. On their return, the couple came with a resolve to not separate.