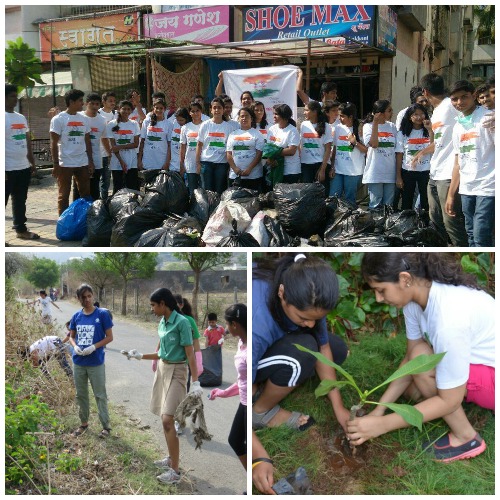 Pune: Young minds across the city are becoming more aware of the increasing environmental hazards. To combat the environmental threats, several schools are encouraging their students to work towards building a sustainable environment.
Students of the Vidya Valley School have arranged for over ten environmental drives since January this year. These include cleanliness drives, tree plantation drives, a 'No Plastic' and environmental awareness camps in residential societies of Pune. On June 3, ten students from this school had cleaned a kilometre of road, leading up to their school entrance. Manasi Desai, a class nine student of the school said, "We were shocked to see bags of thrown away clothes, torn shoes, bottles, industrial bags, wrappers, glass bottles and newspapers all across the road. We decided to clean the stretch up, and were amazed to see what a rag picking drive can achieve."
In the past, the students of this school have also highlighted the solutions for the ongoing environmental problems such as waste segregation and recycling through unique performances, that they term as 'smart mobs', in various malls of the city.
Founded in 2009, when it's members were only teenagers, some friends from different schools across Pune came together because of their love for trees, and established an NGO called Eco-friends.
Aakash Bhalerao, the founder of Eco-friends said, "With more than 200 active members from schools like Bishops, St. Mary's, Helena's and Delhi Public School, we have planted 3,600 trees until today."
This group involves students between classes five and twelve in tree planting activities in societies on NIBM road, on Hanuman Tekdi and Warje Hill, along road sides and on barren plots in Viman Nagar, Kalyani Nagar and Camp.
They mostly plant native species of trees such as peepal, banyan, neem and badaam. The group waters the saplings thrice every week, and have actively carried out the plantation drive across the city.
To be a part of their campaign, visit http://www.ecofriends.org/
Ocean Savers, an NGO will be cleaning up the banks of the Mula- Mutha river in Yerwada, Bund Garden, June 8, with the help of about 35-40 volunteers between the ages 15 and 25.
Karan Ragade from the Ocean Savers said, "The volunteers will be chosen from various schools and colleges in Pune who will be taking part in cleaning the river and collecting the waste from the river bank as well."
Anjani Barret, a student of Fergusson College said, "As I live near the Mula-Mutha river, I am very passionate about its cleanliness. When I realised that people are extremely careless about polluting the river, I was encouraged to join the Ocean Savers to fulfill my endeavor to save the environment."
In the past, the Ocean Savers have conducted clean-up drives across the city. In March 2014, they conducted a trek to Bhaja Caves where 50 members had taken up the initiative to clean up the cave. In October, the NGO will be organising an international coastal cleaning event where 5,000 people are expected to volunteer to clean up the Mula Mutha river in Pune.
https://www.facebook.com/OceanSaversIndia
Change We Need, a city-based NGO, cleaned up a stretch of more than two kilometres of Paud Road on June 1. Schools teach children to recycle Tetra Pak cartons.