A team of fake CBI officers and policemen took away Rs21 lakh from the owner of Kayani Bakery in Pune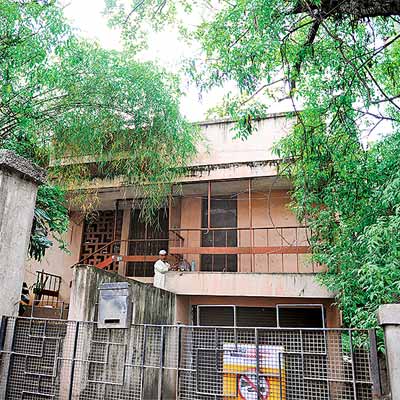 Their modus operandi was similar to that shown in Special 26, a recent Hindi movie which hit screens across the country. And their target of this gang of conmen was the owner of Kayani Bakery, Sohrab Horamazdiyar Kayani.
The Swargate police, who are probing the case, claimed that a gang conducted fake CBI raid on Saturday morning at Kayani's bungalow, just like in the movie that stars Akshay Kumar and Anupam Kher.
The statement Kayani has given to the Swargate police read, "On Friday, I was on night duty at the bakery and returned to my residence Kayani Villa around 6.25am on Saturday on a scooter. My employee Rupesh Satyawan Sonawane who daily accompanies me, was also with me.
"An hour after reaching home, at 7.30am, my watchman Santosh Shukla rang the door bell informing me that someone had come to meet me. I went to the main gate and saw two strangers at the gate. They told me that they had some personal work with me. But, I did not open the gate, went in and closed the door.
"After a few minutes, five unidentified men came inside the gate and rang the bell. I opened the door. They claimed to be CBI officers and showed me search warrant and their identity cards from certain distance.
"I called up my close friend Kolpe and asked him to come to my house. Me and Kolpe inquired with them and after their replies we believed that they were real CBI officers. My friend Kolpe left. One of them said he was the deputy superintendent of police.
"Two others were in khaki uniform and three were in plain clothes. They had also worn blue colour jackets with Maharashtra Police written on them.
"The "deputy SP" alleged that I was involved in the Hawala racket and had been sending money to other countries, so they wanted to search my house immediately. He also told me that a team was raiding the bakery and two teams had gone to my brother's house. They then inquired about my employee Rupesh's family members and asked him to call his brother Nilesh to my home. One of the officers started recording the statements of Nilesh and Rupesh.
"While recording the statement, another person asked me to give Rs100 crore, but I said I didn't have money. The officer threatened me saying that he would take legal action against my family members if I didn't give them the amount they asked.
"Following which, I brought Rs21.03 lakh from my bedroom and gave it to them. After counting the amount, they left the house around 11.25 am. While leaving they told me that if I wanted to settle the matter, I would have to give them Rs1 crore. They said they would come back at 1pm to know my decision.
"After they left, I immediately called up my elder brother Parvez and said I needed Rs1 core to settle the matter. He asked me to come down at the bakery at the Pune Camp area.
"We both went to meet income tax adviser in the Camp area. Only after we spoke to him did we come to know that it was a fake raid and we lodge a complaint with the Swargate police station," the statement concluded. When contacted Sohrab refused to talk about the case saying it was now under investigation.
What is Special 26?
In the 80s, there used to be a fake CBI gang that would loot the rich and corrupt people. And their modus operandi was hugely successful as no politician or industrialist was ready to actually tell how much bank money the gang took away from them. And that's what 'Special 26' is all about.
Police suspect it's insider's job
One person has been detained by the Swargate police in connection with the fake CBI raid at Kayani Bakery owner Sohrab Kayani's residence on Saturday morning.
The police said that it was an insider's job. They, however, refused to disclose further details of the investigations.
Speaking to dna, senior police inspector Ram Pathare of Swargate police station said, "We have detained one person in the case, but we cannot say much now as it will hamper our investigations. We have got some concrete leads in the case and will crack the case soon with its help."
After the incident, a detection branch team of the Swargate police visited the house and the bakery. "There are 45 people working at the bakery. Some of them work on contract basis. We have questioned some of the employees on Saturday," said Pathare.
"Considering the modus operandi, the suspects have studied the schedule of Kayani before executing the plan. We suspect that they must have taken help from an insider to hatch the plan," he said.
Sources at the Swargate police told dna, "The suspects had parked their vehicle away from Kayani's house in the nearby area. After executing their plan, they fled on them." A team of Swargate police has gone to Mumbai in search of the suspects. They have prepared sketches of the three persons who were in the fake CBI team on Saturday. The sketches have been prepared on the basis of victim Sohrab Kayani's information.
Description of the suspects
'Deputy Superintendent of Police'
The person who claimed himself as Dy. SP of CBI is aged between 35 and 40 years about five feet and eight inches in height. He is fair and wore a pink-coloured-shirt, dark brown pants and black shoes. He spoke in Marathi, Hindi and English and was a smoker.
Khaki-clad suspects
One of them was about 6 feet 2 inches tall. He wore a khaki pants and half shirt. He had worn blue-coloured jacket which read 'Maharashtra police' written on it. The second person was around 5 feet 10 inches tall. He wore a khaki pant and a half shirt. He too wore the blue-coloured jacket.