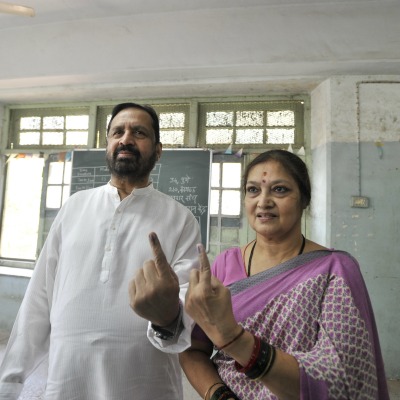 Pune: Last time when he cast his vote for Lok Sabha, he was himself a candidate on Congress ticket and won. But today Suresh Kalmadi entered the voting centre as a common man.
Claiming that he is not unhappy with the party denying him ticket, Kalmadi said that Ashok Chavan is lucky to get a ticket from the party.
While Kalmadi is facing corruption charges for the Commonwealth Games scam, Chavan is facing corruption charges for Adarsh scam.
Congress denied ticket to Kalmadi, but gave a ticket to Chavan from Nanded.
Kalmadi along with his wife Meera Kalmadi cast their votes at a polling booth set up in SNDT College on Karve Road. Unlike old times, Kalmadi was not surrounded by supporters when he reached the booth at 11.30 am.
After casting his vote, Kalmadi was asked about the party denying him ticket and giving the same to Chavan. "I am not unhappy as this happens. Though I must say that Chavan is lucky," he said.
After the party denied him the ticket, Kalmadi was considering contesting on an independent ticket. When asked about it, he said, "I was thinking about contesting independently, but due to my family pressure I did not." Kalmadi however showed confidence in Vishwajeet Kadam and said that Congress will win the Pune seat this time too. "We have made Congress very strong in Pune and it will help the party to win this time too. The Kalmadi effect is there after all," said Kalmadi.