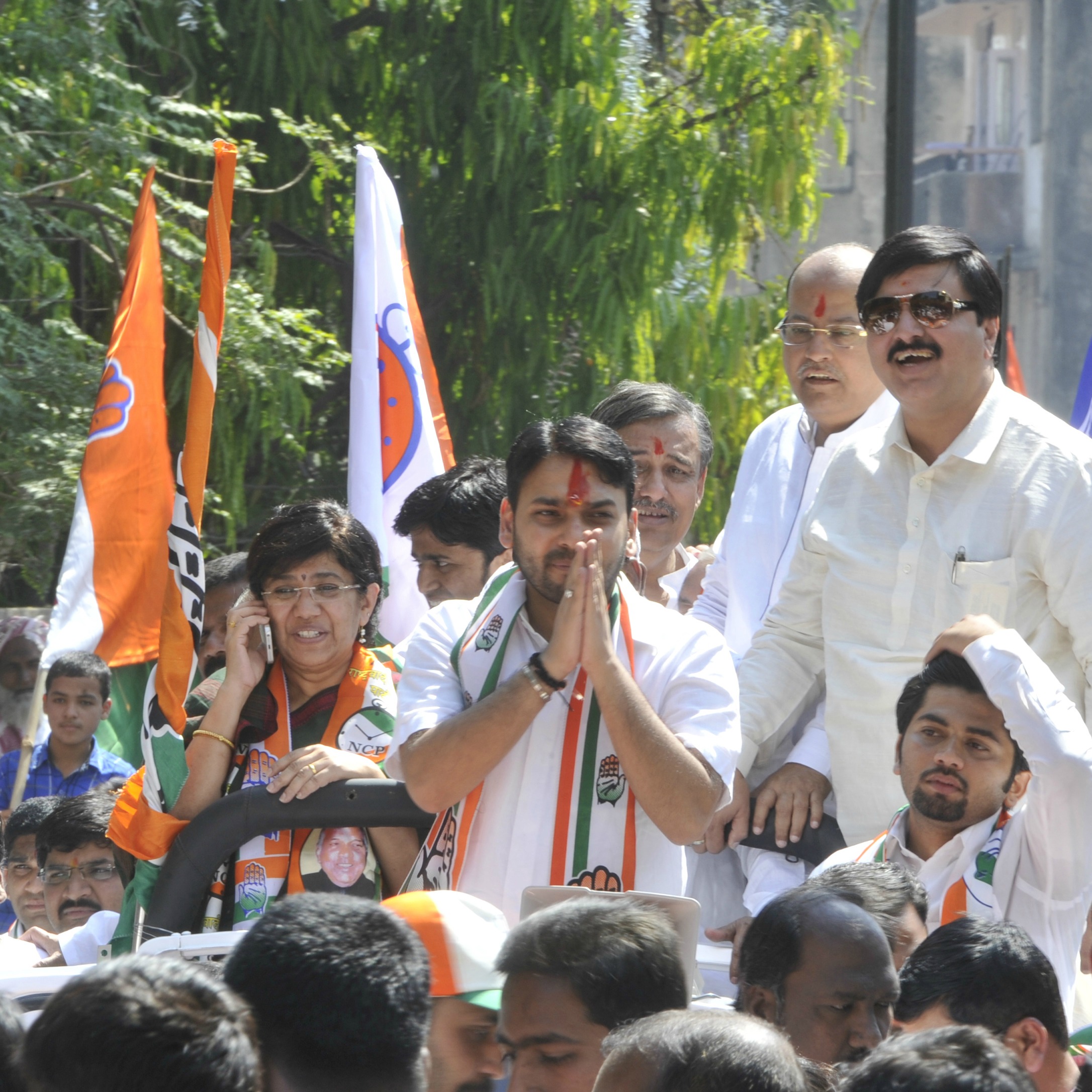 Pune: This looked like a cut out from Bollywood blockbusters Aandhi and Pratighaat where kings visited common man's doorstep.

Congress candidate Vishwajeet Kadam, who is referred to as Balasaheb at Bharati Vidyapeeth empire of Kadams, was seen obediently getting down of the open jeep for Ganesh Arati or Aukshan in the chawls and slums of Pune on Sunday.

Kadam arrived at Gajanan Maharaj Temple in Parvati Darshan almost 84 minutes late than the scheduled time of 4 pm from where he started his Padyatra cum Jeepyatra.

He got down from his SUV and walked down to Gajanan Maharaj temple and adjoining Ganapati temple for seeking blessings. In an open jeep, he undertook Jeepyatra in Laxminagar. He also visited Gavali Wada, Date Stop, Taljai slums and Chavannagar areas.

Earlier, he started his Padyatra from Bhavanimata Mandir at Bhavani Peth and went to Juna Motor stand, Padmaji Park, and Kasewadi areas.

Ministers Patangrao Kadam, Harshawardhan Patil, NCP city unit president and Rajya Sabha MP Vandana Chavan, Congress city unit president Abhay Chhajed, MLA Ramesh Bagve and other MLCs and corporators were present for the Jeepyatra.

Interestingly, Kadam who has never fought any election from the city had to abide by local leaders while deciding on routes and sometimes it created confusion and confrontation among the leaders.

At Bhavani Peth police line, MLA Bagve initially discouraged Kadam from visiting the police line. The residents of the police line were angry and did not allow the yatra to proceed without visiting police lines and Kadam had to visit the police line.

In the evening, there was one upmanship between NCP group leader Subhash Jagtap, Congress corporator Aba Bagul and Anil Jadhav.

Despite the fact that Jeepyatra was traveling much faster than the expectation of the local residents, Kadam found it hard to smile at residents standing on both the sides of the roads. He showed political maturity of touching feet of almost every elderly woman who blessed him with Aukshan (Arai Utarana).

Slogans of Ekach Wada, Vishwajeetdada along with loud sounds of Dhol-Tasha announced the arrival of Jeepyatra.

Many who were out with their families found it hard to ply on city roads as the yatra held the traffic at many places.

Jeep breaks down

There was a competition of leaders and local corporators to stand on the Jeep along with Vishwajeet and the jeep could not bear this load. The crucial nut of the engine of the Jeep (MH12-KJ9296) broke and the open Jeep had to be abandoned for repairs even after Kadam left from the spot.