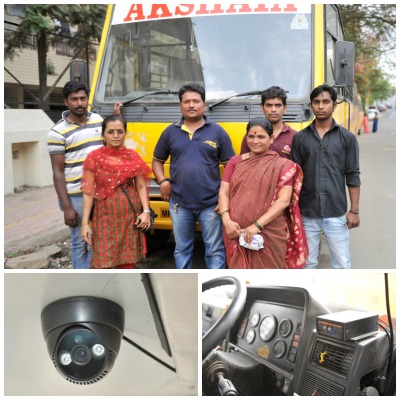 Pune: Will you mind paying Rs 500 extra if you get four SMSes a day, a female attendant and CCTV cameras are on board your kid's school bus and GPS to track bus route?
It was two years ago that school bus operator, Vidya Kamat (48) who runs Akshaya School bus service, received complaints from a few parents that they didn't like the male attendant holding their girls hands while crossing roads or touching their head while doing headcount. Kamat, who started the bus service 21 years ago, immediately recognised the concern was genuine. She started the business only because she was concerned about her own daughter's safety.
Within weeks six women were hired as attendants - one each per bus, CCTV cameras were installed to track if male members entered children's area, a GPS system to track bus route besides an unique SMS system.
The parents get four SMS in a day when students are picked from the homes and dropped off at the school and vice versa, so that they can track time taken to drop kids and notice irregularities in timings or routes if any.All this cost Rs 4 lakh and she has doubled her bus charge from Rs 500 per month to Rs 1000 per month.
Parnets don't mind the extra buck they are spenning. "Even though we live barely two kilometres from the school, I don't mind paying the extra cost. I don't want to compromise on my child's safety for just Rs 500. I keep track of the SMSes to know when my kids are getting on or off buses and if there are any irregularities. I think all school buses should have this," said Vrushali Salunkhe.
"I have been using their services for last 10 years and it is peace of mind for us office-going parents,"said Sanjay Pande, another parent.
"Not just male attendants but sometimes parents complain of boys from co-education schools teasing girls. I plan to install a CCTV camera outside and inside the bus. I have also installed a GPS system on each bus, so the school principal and I can monitor which route is being used by the bus driver. It is mandatory for the bus driver and a male helper must not enter the premises of sitting arrangement of children during travel," said Kamat.