Dabholkar, Ghate get Padma Shri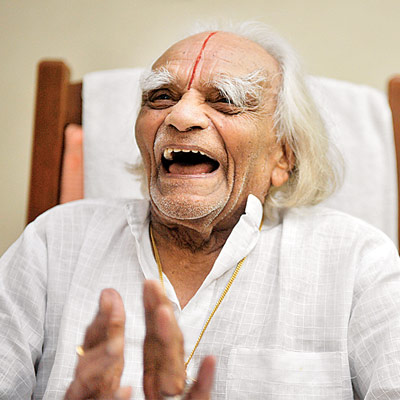 This year's Padma Awards have bestowed a rare distinction of having two Padma Vibhushans at a time in Yogacharya BKS Iyengar and scientist Raghunath Anant Mashelkar. Iyengar propagated traditional wisdom and knowledge of yoga while Mashelkar contributed in overall improvement of science and applied science fields.
Both shared their feelings with dna after being informed about their selection by the government of India for the second highest civilian award, Padma Vibhushan.
Hailing from C Valliputtur, Iyengar shifted to Bellur near Bangalore and later Pune at age of 17 in 1937. At the age of 96, Iyengar has taught yoga to four generations and has over 30 to 40 million followers worldwide.
"It was only because of Bhalaji Pendharkar that I stayed at Poona Guest House of Sarpotdars and could pursue my career in yoga. I treated Bhalaji for stomachache and it vanished, after which he helped me. I presented yoga like dancers and performers which attracted people towards it."
Mashelkar said the award reminded him of responsibility to contribute for nation building.
"Soon after the home ministry informed me in the morning, I spoke to wife Vaishali and became emotional as mother Anjani Mashelkar and my gurus - Prof MM Sharma and Prof CNR Rao - have great influence on me. My mother always inspired me to achieve more and so did my gurus."
Meanwhile for family members of slain anti-superstition activist Dr Narendra Dabholkar who was awarded Padma Shri award posthumously, it was a mixed moment of anguish and joy.
Dr Dabholkar's son, Dr Hamid Dabholkar said, "This award is a receipt of the work which my father carried throughout his life by respecting the Indian Constitution and we accept this award on his behalf. However, there is anguish among all volunteers of Andhashraddha Nirmulan Samiti that his work was always neglected by the government when he was alive. "
Tabla player Pandit Vijay Ghate is also among those who will be conferred with Padma Shri award. Last year, tabla player Taalyogi Suresh Talwalkar had received the Padma Shri award and this year another tabla player from Pune has been honored with Padma Shri award.