One should utilise the holiday for the purpose it has been declared, opines the famous astro-physicist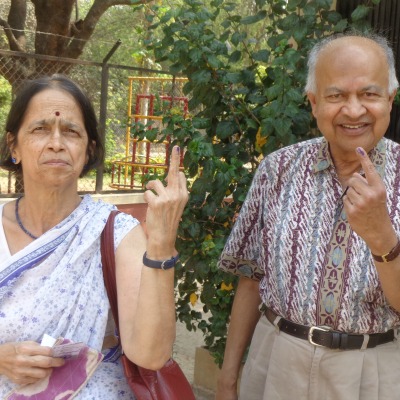 Pune: Expressing the need for turning towards complete online voting for transparency and immediate results, internationally acclaimed astro-physicist Jayant V Narlikar, on Thursday, said that till we reach that stage, exercising the franchise was most important act in democracy for a citizen.
Narlikar along with his wife Mangala Narlikar exercised his franchise at NCL Junior College in Pashan.
Speaking to dna he said, "We are using electronic voting machines now and in the same way we should do the entire voting process online so that there would be no need for separate counting as such. Like on a website you come to know hits, one can instantly get election results.'
Remembering the 2009 elections, Narlikar said that he was abroad and hence missed the opportunity to cast his vote. But he makes it a point to exercise his franchise whenever he is in India. Replying to a question on people using voting day holiday to enjoy picnic he said, "One has to utilise the holiday for the purpose it has been declared and if there is a spare time, one can enjoy as per the choice but voting is important duty of the citizen."
'I voted in UK too'
Recalling his old days in UK, Narlikar revealed that he had an opportunity to vote during UK elections when he was staying in England in 1970. "The Commonwealth Citizenship was given to those who were staying in UK in those days and we were allowed to vote during the elections there. It was an election between Labour Party led by Harold Wilson and the Conservative Party. There was prediction that Labour Party would win but somehow there was something wrong and Conservatives won."