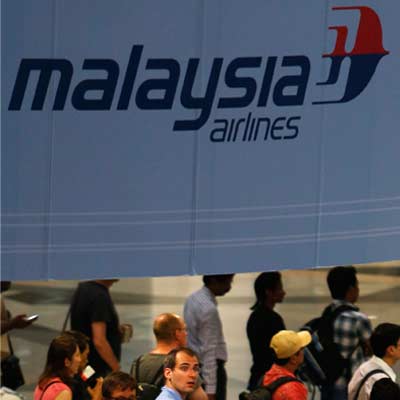 "My dad was to resign from the job and it was my mother's last trip to South Korea to take him home (India)," said Rahul, the elder son of Kranti Pralhad Shirsath who was on board the Malaysia Airlines flight. The flight, carrying 227 passengers and 12 crew members, went missing over the South China Sea on Saturday.
After coming to know about the tragedy on Saturday, the relatives of Shirsath are coming to meet Kranti's two sons at Bhugaon, situated in the outskirts of Pune. Rahul, who is studying in standard XI, came to know about the tragedy on Saturday afternoon when he got a call from his uncle. "My uncle had called me on mobile asking me to watch BBC news. I immediately came to house and tuned BBC. The news said my mother's flight has gone missing. I was shocked. I immediately rang my uncle (father's brother)."
Kranti who was a Chemistry lecturer in Pune's college, had resigned two years ago from the job and was staying with her two sons, Rahul and Yeshwant. The family has a plush bungalow at Bhugaon. Pralhad's brother, Satish who stays in Sangamner, came to Pune. He told dna, "On Saturday, I got a call from my brother informing that there was some issue in the flight and the flight might be late by two hours. After an hour, he again called me and informed that the flight went missing over the South China Sea. We were shocked and I immediately came to Pune."
Satish said Pralhad was working with an NGO in Ireland and was to resign from the job this month. "Kranti often used to go to meet Pralhad in South Korea. This time, I had booked an air ticket for her. On March 7, she contacted me from Mumbai airport informing that there wasn't any problem in visa and ticket. She landed at Kuala Lumpur and took a flight to Beijing. From there she was to take a flight for North Korea."
Talking about Kranti's trip, Satish said, "My brother was to resign from his present job and had decided to settle permanently in India. As a result, Kranti was going to take Pralhad home. It was her last trip to South Korea."
Satish said that the Indian and Malasiyan embassies provided the details. "After coming to know about the tragedy, we contacted the embassies for details. The Airlines authorities too expressed their condolences to us," Satish added.
Satish said that his brother had travelled to Beijing by train and would meet the authorities on Sunday. Even after the tragedy, the family members and the relatives have kept the hope alive saying that two persons were found to be travelling on fake passports could have troubled the flight. "The search operations are still on and we are hopeful to hear good news," Rahul said. Shirsath family is hails from a village Pimpalgaon in Pathardi tehsil in Ahmednagar district.