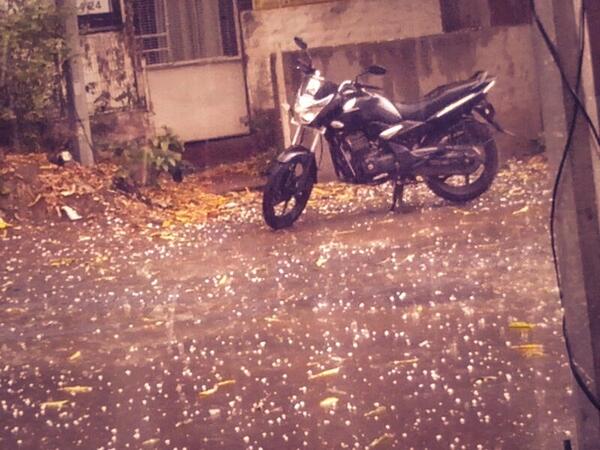 The hailstorm which has created havoc in most parts of the state, parts of Pune also witnessed hailstorms on Thursday. While rain and thundershowers continued to lash the city, the experts of India Meteorological Department (IMD) stated that city has recorded exceeded rainfall activity than the average rainfall from March 1 to March 12.
Medha Khole, deputy director general (weather Forecasting) of IMD told dna, " The average rainfall from March 1 to March 12 is 0.7 mm but in ongoing month of March IMD has recorded 2.2 mm rainfall for the same period of time which is 214 percentage more than the average rainfall."
Meanwhile, as the city continued to be lashed by unseasonal rainfall activity, some parts of the city including Chinchwad, Nigdi, Wakad witnessed hailstorms for a brief period of time on Thursday. Citizens in these areas were seen collecting hailstones. Sudhir Mulik, one of the residents of Chinchwad area said, " The climate had become cloudier on Thursday and at around 3 pm it started raining heavily. Initially we thought it was just a rain water but then we realised that the rain water was also carrying hailstones with it."
Apart from that, other parts of the city especially Kothrud and Katraj witnessed heavy spells of rain and thundershowers. Pune Fire brigade received 12 calls and most of the calls were of tree falling due to strong winds.
IMD experts have predicted that the rainfall activity is likely to continue for next couple of days. Khole said, " Pune is witnessing rainfall activity due to the presence of trough from Madhya Pradesh to Central Maharashtra. The trough is likely to weaken in next 48 hours and the rainfall activity will be reduced."
Will untimely rain delay the monsoon season?
When Medha Khole was asked whether the ongoing rain and hailstorm can have any effect on monsoon activity, she said, " It will be too early to comment on monsoon activity, but one thing is for sure that the land heating process has been delayed. The land heating helps moisture to go up which forms cloud and rainfall takes place during monsoon season. The land heating process generally begins from start of March, but this year due to the ongoing rain and hailstorm, the land surface is wet and it will take time in land heating."