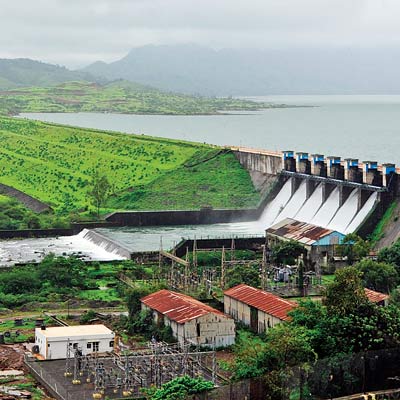 The water situation in the city is precarious. The four dams that provide water to Pune are holding only 2.04 TMC water at present as against 4.70 TMC on the same day last year. The situation has become worse since Sunday as none of the catchment areas of all the four dams receive rain.
The Khadakwasala, Panshet, Warasgaon and Temghar are the four dams from where water is supplied to the city. The rainfall in the catchment areas collect water into the dams. However, this year, there has been very little rain although the monsoon has officially arrived in the city.
According to officials of irrigation department, all the four dams are holding a total of 2.04 TMC water, which can only fulfill the water needs of the city not beyond one-and-half months. The water discharge for agriculture purpose has been completely stopped and the water is being used only for city's requirement.
At present, there is no water in Temghar Dam while the Warasgaon Dam has only 0.15 TMC water. The Panshet Dam is holding 1.26 TMC of water and the Khadakwasala Dam has 0.63 TMC till Sunday. On the same day of last year, these dams were holding 4.70 TMC water, which was nearly double than the existing water content in all four dams together.
Anticipating below normal rainfall, the Pune Municipal Corporation has already written a letter to the irrigation department, requesting them to maintain the water storage in these dams till August instead of July so that in case of less rains, the water still will be available to the city.
Meanwhile, the officials of the civic department are urging citizens to use water judiciously. "Citizens will have to use water judiciously or the entire city may face acute water shortage. It we get below normal rainfall throughout this season, the situation will be worse in summer. Therefore, we have to start saving water from today itself," an official of water department of PMC said.