PMC's proposal to introduce pay-and-park scheme on 15 of the city's roads is aimed at bringing congestion and parking discipline in check. But will the move actually prove to be a boon for the residents, is what remains to be seen.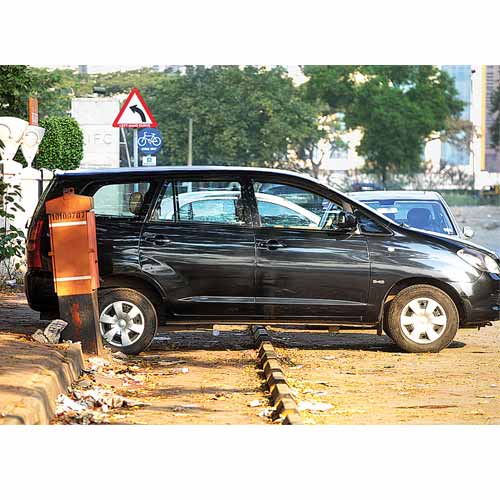 Improve public transport instead
Why doesn't the civic administration improve on the special parking zones demarked at the various places in the city, if they really want to discourage people from using road space for parking their vehicles? Car owners do not mind paying for parking, but it becomes taxing for the two-wheeler owners, when you charge them Rs2 to Rs5 per hour. Most two-wheelers are driven by middle class people, youths and college-going students and if they have to travel to 10 different locations in a day, you cannot keep charging them for parking. In a place like Laxmi Road, for instance, the parking space is not enough for the shopkeepers themselves and when they will avail the facility of buying a monthly pass, decongestion won't ease at any point. Moreover, people who want to avoid parking charges, will use bylanes for parking their vehicles. The civic administration needs a good reason to put forth such a proposal. If they are talking about disciplining the citizens, it is not their job. We have the RTO and the traffic department to do that. The PMC must concentrate on improving the city's public transport. Vijay Kumbhar, president, Surajya Sangharsh SamitiCITIZENS WANT TRANSPARENCY IN THE SYSTEMIf the civic administration wants to start with the pay-and-park scheme, they must start building special parking zones and discourage people from randomly parking anywhere on the road. The roads are meant for movement of traffic, and not for parking vehicles. What people want, is transparency in PMC's business of pay-and-park scheme. What usually happens is that the PMC gives the contract of collecting parking fee to a third party, which doesn't have transparency in the collection system. Instead of starting the pay-and-park scheme, PMC should rather concentrate on improving the quality of public transport in the city. People prefer using private vehicles because they do not have a choice. The politician who are encouraging the civic body to introduce the pay-and-park mode should practice what they preach—they should come forward and start using public transport themselves.
Vivek Velankar, president, Sajag Nagrik Manch
Discourage free parking to decongest pune roads
We have to understand that roads are built for traffic movement and not for parking vehicles. We need to take steps to discourage people from using road space for parking. If there is less parking, it will ease traffic movement on the city roads. We have to find solutions to decongest city roads and discipline traffic movement. Developing parking zones will not happen immediately. The pay-and-park scheme need not be run by private contractors, the PMC can do it themselves. It is important that we discourage free parking so that people use less private vehicles on the roads. For example in Colaba in Mumbai, cars are charged between Rs70 and Rs100 per hour for parking. The same can be done on Laxmi Road, so that people start parking their vehicles on the river side road, or do not bring their vehicles at all. With the number of vehicles increasing in the city, the roads should not turn out to be parking space and become hurdle for traffic movement.
Vishwas Pandhare, DCP, traffic department, Pune
PARKING ON ROADS SHOULD COME AT A COST
Public roads are not meant for parking vehicles, therefore, the pay-and-park system should definitely come into place. This will check indiscipline on the parking front. The scheme by PMC will encourage people to use public transport or take to walking or cycling. The RTO figures show that the city already has over 27 lakh private vehicles and every year, more than two lakh vehicles are added to the figure. This is putting a lot of pressure on the traffic movement in the city and giving rise to road accidents. The public space is not meant for parking vehicles and if someone wants to use it, it has to come at a price. What is being charged right now is coming to citizens at a subsidised rate. At the same time, PMC should develop more parking plazas and encourage people to use them.
Jugal Rathi, president, PMP Pravasi Manch
We should know where our money is being used
As citizens, we are not against the pay and park system, provided it comes at a subsidised rate and is not managed by contractors. Charging Rs5 per hour will be like fleecing people. Moreover, we also have a doubt on how much money will actually fill up the public exchequer and will be used for developing public facilities. The civic administration will have to show some kind of transparency. Some third party must not end up profiting from the scheme. It is true that the number of vehicles in the city are increasing day-by-day and indiscipline is leading to traffic congestions and accidents.
Umesh Shinde, citizen
The proposal has been rejected by political parties in the general body meeting, and is expected to be reviewed shortly.
PMC's pay-n-park proposal
- The scheme will be initially introduced on 15 main roads
- Main aim is to discipline and discourage use of road space for parking
- Charges will be Rs3 (first hour) Rs5 (every additional hour) for two-wheelers
- The scheme was originally proposed by the Pune Traffic Department to the PMC
- The original proposal covered 45 roads
15 roads where pay and park has been proposed
Lakshmi road
Bajirao road
Tilak road
Shivaji road
Karve road
Shastri road
Jangli Maharaj road
Fergusson College road
Modern College road (Dnyaneshwar Paduka chowk to Modern College junction)
Nehru road
Baner road
Paud road
Ganesh Khind road
Dr Babasaheb Ambedkar road
Col Tarapore road (Kirad chowk to Blue Nile chowk)