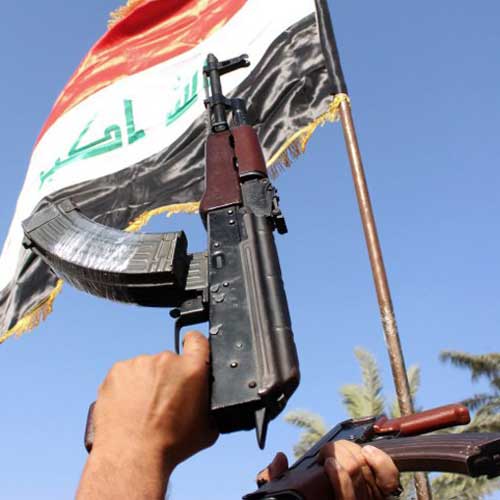 Pune: Iraqi Ihsan Hamza was always sure that he wanted to come to Pune to pursue his further studies. "In Iraq, if any student wants to take up medicals or engineering, India is the preferred country. And more pecifically Pune, because it is the educational hub," he said. Ihsan, who is studying Masters in Computer Science in a city college, feels safe in Pune. However, he breaks down whenever he sees an update related to the Iraq crisis. "It is hard for me to stay here. I constantly keep worrying about my family," he rued. Ihsan's parents reside in Karkuk, a city in Iraq. Karkuk has always maintained harmony in their city. "My parents told me that in a day there are around 4-5 blasts outside the house. There are so many political problems in Iraq. There are almost 80 different tribes. That is what is causing the mess," he said. His family is gotten used to it, but Ihsan and his family are just waiting the for the day when the crisis will get over.
Ihsan's father was a Kurdish solider, but during the reign of Saddam Hussian, he was forced to leave the country. Another Iraqi, Salar Fadil, who studies Computer Science in Pune University, lives by a simple philosophy ''live and let live'. Salar, who shifted to the city two year ago is constantly thinking about his family. "Although they live in a safe place, I always worry about them. The war in Iraq has gone on for decades now. All we now want is peace," said Salar, whose family lives in Kurdistan.
For Iraqi Bernadette Edmonds, who stays in Pune, things were a lot better when Saddam Hussain was at power. "Things were very cheap and the situation was much easier then," she said. Bernadette claims that the reason for the ongoing crisis in her homeland is because of innumerable tribes. "It is very unfair that common man is targeted there. On Saturday night, my family in Iraq was asked to vacate their house and move to another place," she informed. All Bernadette can do is pray for their well being.
Getting the updates from the social media and TV, an Iraqi studying in Pune wants to rush home to meet his kid and family. "I am really scared. I keep calling them everyday. I want to go back to Iraq to meet them. However, I cannot because the situation there is worse right now," said the student.