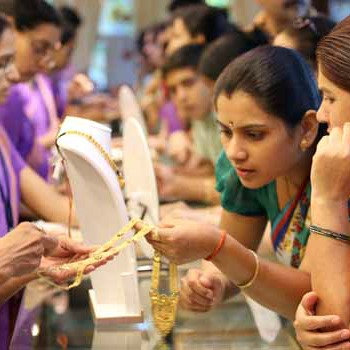 Pune: At a time when investors are keeping a keen eye on the falling gold prices which went from Rs 29,450 per 10 gm on May 20 to Rs 27, 125 per 10 gm on Monday, city jewellers said that while it is a good time to invest they are implementing a slow buying policy that could prove beneficial in coming weeks.
Continuing the falling streak, gold prices in the country fell by Rs 25 to Rs 27,125 per 10 gram this Monday. Probably the best time for Punekars to indulge in gold shopping, city jewellers hope that the new government will bring in a lot of economic changes in the coming days.
According to market experts and owners of city's popular jewellery stores, there will be a further dip in prices in coming weeks which can vary between Rs 500-Rs 1000 per gram. Om Prakash Ranka, director of Ranka Jewellers, "Though the wedding season will start only a couple of months later, we have seen a steady increase in the number of customers in the last three weeks. They are investors and others who are cashing in on the dip in gold prices. Although it's a great time to buy gold, we would still suggest people to wait and keep a tab on the market for further reductions in prices which we anticipate would happen in coming weeks." The dip in the prices has also resulted in low labour charges, added Ranka stating that at his stores, labour charges had dropped between 10%-15%.
"One cannot predict the market as it can vary any minute but yes there is an indication that prices will fall further in coming weeks," said Saurabh Gadgil, director of PN Gadgil jewellers.
However some like Milind Marathe, director of Marathe Jewellers said customers must make the most of current market trends. "However, for those who are looking for bigger investments, wait for further dip in prices."
Investment consultant Rishabh Parakh, director of Money Plant Consulting said that shopping must be done in portions. "The ideal thing to do is buying one gram of gold each month especially for weddings," he suggested.