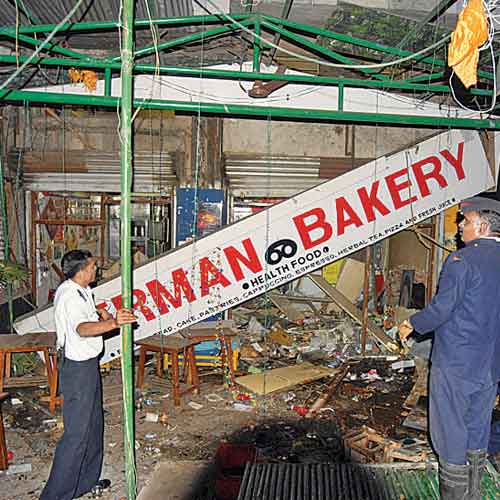 The Anti-Terrorist Squad (ATS) is now looking at a fresh angle related to the role of arrested alleged Indian Mujahideen (IM) operative Zahid Hussain from Kolkata. Besides his alleged involvement in the German Bakery blast case, they are also looking at his possible role in an international counterfeit currency racket.
Hussain, a Bangladesh national, has been arrested by Kolkata Police's special task force in the wee hours of Wednesday in Kolkata train station.
Raja Thakare, special public prosecutor in the German Bakery blast case, said, "Hussain is suspected to have supplied RDX and his arrest is an important aspect as a chain of crimes will be proved."
When contacted, ATS chief Himanshu Roy said, "A team of officers have been sent to Kolkata to interrogate Hussain. After the interrogation, the picture about his role in the German Bakery blast case will become clear. In the meantime, we are inspecting our past crime records of counterfeit currency rackets and his link to them."
A police source said, "During interrogation of Yasin Bhatkal last year, who is a mastermind of various bomb blasts in Pune, Hyderabad and Banglore, he had revealed that he had procured the RDX from a person from Bangladesh."
"Hussain's role in the terror outfit is of giving logistic support and sheltering such culprits. He is a mediator carrying goods from Pakistan via Bangladesh to India. Not only RDX. but he is also into circulating fake currency notes which pumps in funds into the banned outfit."
Another officer speaking to dna said, "After the arrest of Hussain, the ATS has been asked to probe all the counterfeit currency note cases registered with Maharashtra police, especially since 2010. Hussain is in touch with some wanted IM operatives."
A bomb ripped through the premises of German Bakery in Pune and killed 17 people, including five foreign nationals, and injured 58 others on February 13, 2010. In this case, Himayat Inayat Baig has been convicted while Yashin Bhatkal and six others are on the run.