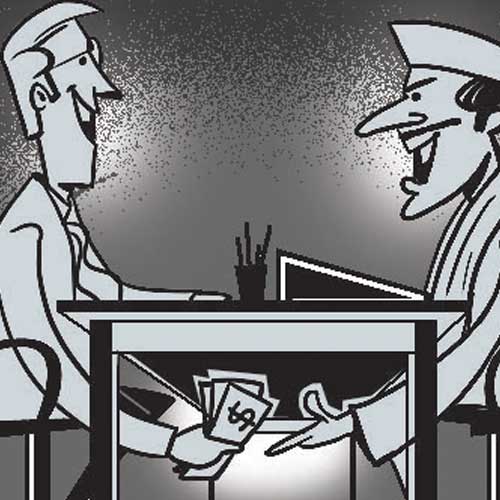 Anti-Corruption Bureau (Pune Unit) Superintendent Sarang Awad has earned the reputation of being a no nonsense officer with zero tolerance for corruption. In six months time, the number of traps have reached to 87 compared with 109 cases last year Pune ranks second in ACB cases, most of the traps resulted in class I government officials getting caught by the ACB sleuths. The Pune unit not only covers the entire city but also has jurisdiction spanning Satara, Sangli, Solapur and Kolhapur. Speaking to Chaitraly Deshmukh, he said,
Which department has the maximum number of arrest done by the ACB?
Revenue department, police, education, Municipal corporation, Irrigation department and now the new trend of arrests are from the health departments most of them are doctors who are demanding the bribe.
What is their modus?
This year in six months we have registered 87 cases of demanding bribe of which we have arrested 130 persons totally. Now a days, the trend is about hiring a private person who work as a agent between the officer and the layman. He is one who collect the amount and mediate between the two. In our trap this year we have arrested such 30 private persons.
What are the new trends of corruption in government machinery ?
Now money is not demanded but in many cases the officers are demanding piece of land or project concession to be given to them, gold, vehicles and asking people to deposit the money in their agent or other relatives accounts. So accordingly even the disappropriate assets cases have increase in city and after our inquiry we are being registering the cases.
Despite the traps statistic have increase but there is less per centage of conviction. Is there any effective steps taken by ACB?
Initally, the complainant use to lay the trap agains the officer out of person grudge and later they did not follow it on regular bases and many a time the complainant was not keen in following the court proceeding. But now the situation have changes and the conviction rate of ACB has increase by 30%. I am personally having a look on all the chargesheet file in court and also on regular bases we are having orientation courses about how to lay a trap and make the case strong. We have appointed an court officer who will be seated in the special court where our ACB cases are heard. He keeps daily updates about the cases, the stages and other ACB proceeding. This is helping us and our officers to understand the stage of the case and we can later inform the witness, complainant and our officers."
Contact ACB
The ACB officials have appeal people can lodge complaints by sending emails to the department or call 020 – 26122134 / 26132802 and on the toll free no.: 9420901900.