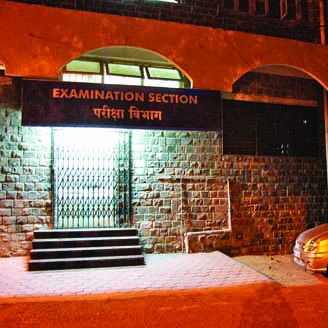 After being in the news for all the wrong reasons like delay in results, irregularities in exams, glitches in on line process of examination few days back, the examination section of the varsity is once again in the news but for good reasons as the varsity has managed to declare almost 95 per cent of results within or on time.
There were times that some of courses' results were declared almost after 120 days of exam which resulted into great dissatisfaction among students.
The former Controller of Examination, Dr Sampada Joshi was suspended after several deans of various steames and senate members and students associations had written a letter to vice chancellor over various errors taking place in the exam section which was resulting in delaying the results.
Dr V B Gaikwad, the acting Controller of Examination, University of Pune,, who was given the responsibility after Dr Joshi was removed from the post, said that the staff of the exam section helped him to find out the issues in the coordination process of exam section and with the collective effort, they managed to rectify the problems.
He added that the main challenge in front of the exam section was to declare the results on time without any errors and to achieve it, they tried to reach to the root cause of the problems and tried to over come them with better coordination.
During the exams, it was decided that the exam papers reach to the colleges on time and there should not be any errors or glitches in getting the right papers by the colleges.
After the exams also, it was decided that the answer sheet assessment processes are speedy and there should not be any room for errors. "The main challenge was to feed all the marks into system to generate the results and extra care was taken while doping so," he added. All these efforts paid after majority of the results were declared before or even on time.
Even the results of recently held exams like B.Ed, MEd, law diploma, Engineering, BA, BSc and BCom were declared much before before the deadline. He added that the varsity is able to declare even post graduate courses results on time and now almost all the results are declared.