Imran Pansare Mitra Mandal openly backs Shrirang Barne in a PCMC rally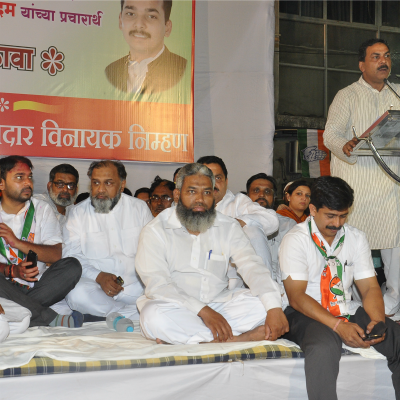 Pune: Even after Shahi Imam Syed Ahmed Bukhari announced support to Congress, Imran Pansare, cousin to 2009 NCP Maval candidate Azambhai Pansare, has announced support for Shiv Sena candidate Shrirang Barne.
Following a meeting between UPA chairperson Sonia Gandhi and Imam Bukhari, the Shahi Imam had announced support to Congress at the national level, and had appealed Muslim citizens to vote for Congress. He had appealed to Muslims to vote for Trinamool Congress in West Bengal and Rastriya Janata Dal in Bihar. He said that communalism was a bigger threat than corruption.
Despite that, Imran Pansare Mitra Mandal on Sunday conducted a a rally in support of Barne. His supporters, riding hundreds of two-wheelers and four-wheelers, started the rally at Bhakti-Shakti Chowk and rode through the entire PCMC area. Interestingly, Gajanan Babar of Shiv Sena defeated Azam Pansare in the 2009 elections, and Babar who is now out of the Sena has now teamed with MLA Laxman Jagtap, who has the support of PWP and MNS.
Targeting Jagtap, Imran Pansare said, "We will work to defeat forces which were responsible my brother Azambhai's defeat in 2009 elections."
Meanwhile, minister for department of minorities Naseem Khan, appealed to the minorities to work towards the victory of Vishwajeet Kadam. He was speaking at minority rally at Rajyog Mangal Karyalay in Shivajinagar assembly segment. Khan criticised Narendra Modi for announcing himself as the prime ministerial candidate, and said, "Communally biased Modi is taking it for granted that he would become prime minister. Minorities should vote for Congress to put Modi in his place." Candidate Vishwajeet Kadam, Patangrao Kadam, Harshawardhan Patil, Satej Patil,MLA Vinayak Nimhan, Chandrakant Chhajed and others were present at the rally.