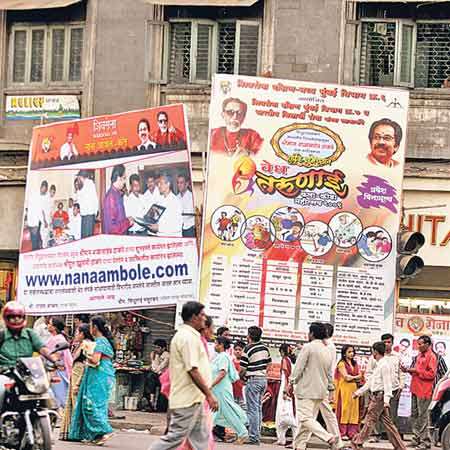 PUNE: Usually before his birthday, Nationalist Congress Party leader and deputy chief minister Ajit Pawar gives orders to his supporter on not to put up banners for his birthday wishes. However this year, as the assembly elections are nearing, the skies of Pune and Pimpri chinchwad are covered with banners for not only wishing Pawar on his birthday, but the NCP workers have also made an attempt to take up the work of Congress- NCP alliance done in the state.
However, this year no leader is seem to be taking any objection over the illegal hoardings and banners which is blocking the sky view of the city. NCP leader and guardian minister of Pune is celebrating its birthday on July 22 and this year, all parts of the city, including peth areas, suburbans are covered with Pawar's hoardings. At many places, the hoardings do not contain mere birthday wishes but they are more of political hoardings. On Many such hoardings, the political party workers have mentioned how Rs 500 crore have been invested for irrigation purpose. Some hoardings have a mentioned that how NCP has provided assistance to women self help groups for women empowerment, how it has taken efforts for the betterment of farmers.
When asked, Suhas Palshikar, professor in the department of politics and public administration at the University of Pune, he said," It was on the cards. As the elections are nearing, every political party will push hard to reach out to people. However, considering the recent results of Loksabha elections, it is more evident that Congress and NCP will take more efforts in reaching out to voters ahead of upcoming assembly elections."
On the backdrop of recent statements made by congress leader Narayan Rane that the party failed in taking the work to the people, Palshikar said, " I will not be surprised if congress and NCP take more aggressive stand in campaigning and projecting their work ahead of assembly elections."
On one hand the political banners and hoardings are increasing, however on the other hand, the civic administration is turning blind eye towards such banners and hoardings. Last year, the Bombay High court had asked the civic administration to take down all the illegal hoardings within 24 hours, after which PMC had carried out massive drive. But now the illegal hoardings and banners are once again blocking the sky view of the city.
When asked Vijay Dahibhate, head of sky signs department of PMC, he admitted that the number of political banners have increased. He said, " The number of political and commercial hoardings are increasing and they are defacing the city's skyline. At present we are carrying out action against commercial hoardings. Soon we will also take action against political banners and hoardings."
When asked spokesperson Ankush Kakade about increasing number of posters installed by NCP workers, he said, " Ajit Dada himself does not like such posters and he has given several warnings to partymen. However, there are some people who sometimes want to put up their own photos with party leaders and that is why we are seeing such posters and banners in the city. Though Pawar is against of putting up such posters, we can not make our party workers unhappy."