Many found their names missing from the voters' list in Pune; stage dharna at Council Hall demanding re-election; all parties except Congress join them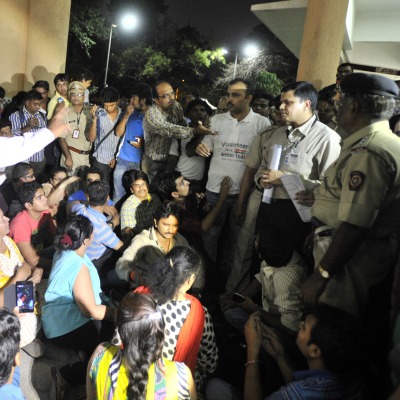 Pune: From a voter turnout of 39.07 per cent in 2009, the voting graph came up to a more decent 53.46 per cent this year in Pune.
However, happiness was short-lived as the city witnessed utter chaos on Thursday as hundreds of disgruntled citizens claimed that their names were missing from the voters' list.
Agitated citizens held dharna at Council Hall till late night demanding re-election or allowing them to vote before the last phase of the election ends.
The anger of citizens which reached its peak towards the end of the day, started at the different voting centres when they went to vote and found that their names are missing from the voters' list.
Most of the complaints came from areas like Kothrud, Prabhat Road, Law College Road, etc.
These voters included senior citizens, women and even youngsters, some of them carrying voting cards which they had got during previous elections.
Groups of agitated citizens were seen arguing with the election officers asking them to allow them to excercise their right to franchise. After the voting ended at 6 pm, an agitated mob decided to gather at the Council Hall. After the message was circulated on the social media, more people gathered followed by political leaders.
Anil Shirole, BJP candidate from Pune, announced that he would go on an indefinite fast until the issue is resolved. Shirole wanted to submit a memorandum of the demands to the district collector but he was denied a meeting after which he along with his supporters sat on dharna in the Council Hall. "We have prepared a memorandum of our demands. We want the Election Commission to allow the citizens who have voters' ID card to exercise their vote. If the demands are not accepted, I will begin an indefinite hunger strike from Friday," he said.
RTI activist Vinita Deshmukh also joined Shirole and the agitated citizens. She has also decided to join Shirole in the fast.
As the agitation grew bigger, Aam Aadmi Party candidate Subhash Ware also joined in the agitation. "People have the right to vote and it cannot be taken away from them,"said Ware.
Collector Saurabh Rao had a discussion with the agitated citizens and tried pacifying them but they were not in a mood to listen to his clarification. As more people started gathering, Rao had to go to the first floor of the Council Hall. "I will take the observers' recommendation and opinion and send it to the state election committee and the CEO," said Rao.
Representatives from all political parties except Congress were present at the agitation.