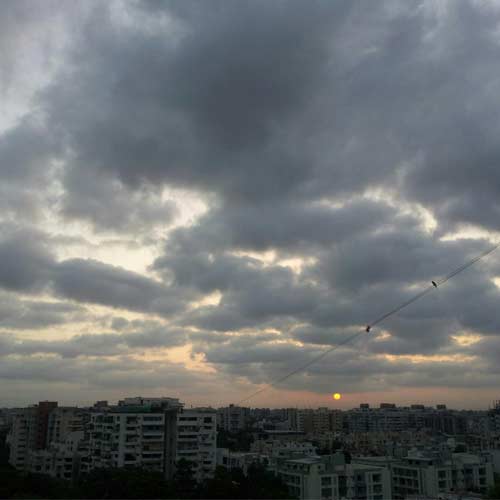 Pune: After a long wait, the southwest monsoon finally has arrived in and around Pune but there is not much for Puneites to cheer. Even after the arrival, the monsoon is still in a weak state due to which Pune has received only 13.6 mm rain till June 16 compare to average rainfall of 79 mm till date.
Usually, after it reaches in Kerala, the southwest monsoon takes one week to reach Pune and the city usually gets monsoon showers around June 7. But this year, the progress of the monsoon has been considerably slow. It reached Kerala nearly a week behind its schedule and its advancement was further delayed as conditions were not favourable for the further advancement of monsoon.
India Meteorological Department experts said, "The monsoon is active in parts of Sangli, Satara, Konkan and Goa and as a result of which these regions are receiving heavy rainfall. However, though the monsoon has arrived around Pune, it is not yet in an active state due to which only cloudy conditions are seen in Pune and the city is getting very less rain."
After the monsoon arrives in the city in June, the city is drenched with rain. The average rainfall of the city for the period from June 1 to June 16 is 79.3 mm but this year, the city has received only 13.6 mm rainfall for the same period.
Predicting the forecast for next 48 hours, IMD officials said, "The conditions are likely to be favorable for monsoon to became active in next couple of days and the city is likely to get few spells of rain showers. Meanwhile, parts of Sangli, Konkan, Satara, is likely to get heavy rainfall."