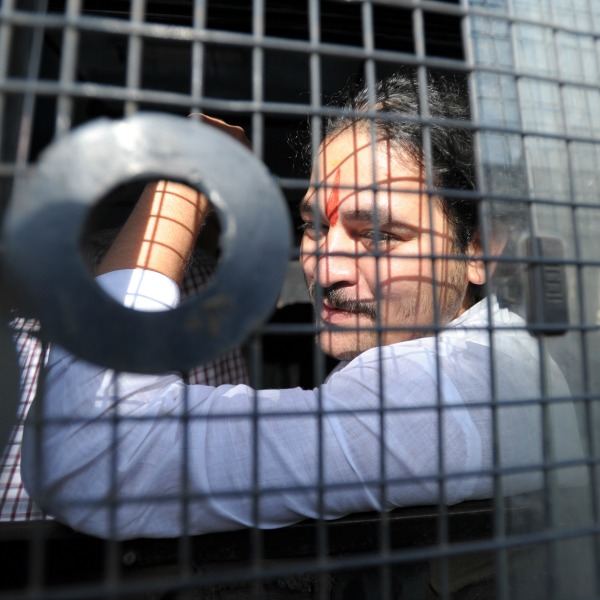 The murder of IT manager Mohsin Shaikh in Hadapsar on June 2 was not supposed to be an isolated incident - members of right wing outfit Hindu Rashtra Sena (HRS) had hatched a plan to murder several others. That's the claim that public prosecutor B R Patil made before the court of judicial magistrate first class, P D Zambade, when HRS chief Dhananjay Desai and two others were produced in the court on Wednesday in connection with murder of 28-year-old Shaikh.
Patil claimed that the plan was being hatched on the direction of HRS chief Desai who was produced along with two other accomplices Abhikesh alias Bunty Chavan (28) and Mahesh Khot (24), both residents of Hadapsar. All have been arrested under relevant sections of Indian Penal Code related to murder, attempt to murder, criminal conspiracy, rioting and an act done by them with common intention.
On Wednesday, a heavy bandobast was deployed at the Cantonment court prior to hearing. Desai's sister Rupali, wife and other supporters were present in court. Additional force by the State Reserve police force (SRPF) was deployed too. Every person entering the court premises was being checked and police vigil was kept near Camp's Jama Masjid, which is adjacent to the court, to avoid any untoward incident.
Desai's face was not covered and he entered the court wearing white kurta and a red tilak on his forehead, while the two others had covered their faces. For half an hour, Desai was interacting with his lawyers and his family relatives. During the hearing in court, Desai kept chanting prayers.
Additional public prosecutor B R Patil demanded police custody for seven days and argues, "Desai has a strong hold in Western Maharashtra and his provocative speeches like the one he gave on January 19 addressing the masses in Loni Kalbhor area can lead to communal disharmony. During investigation, it has been revealed that on June 1, the members of HRS held a meeting and had hatched a plan to attack the people and it has been also revealed that the attackers had committed the murder on Desai's order."
Public prosector sought police custody for seven days saying an in-depth investigation was needed. "The police needs to recover his mobile handset. And from the other two persons, the police have to seize their clothes worn on June 2 and vehicles."
"After the murder, the arrested Chavan and Khot had fled and were residing in Satara." Defence lawyers Chetan Bhutada, Atul Malviya and Rajendra Sonawane opposed the plea.
"After the defamatory pictures of Shivaji Maharaj and Shiv Sena's chief Bal Thackeray were being circulated, the police did not take cognizance of it even when citizens approached them and this resulted in violent incidents. There are many undue incidents in city and more than 150 people were arrested who belong to various political groups. Desai played no role in the violence in city. Even the derogatory matter which was being circulated under his name was not sent by him but by other anonymous persons. Desai has been in the custody of police for the past one week and has been interrogated by the Crime Branch, Anti-Terrorist Squad (ATS) and police have already seized his mobile. His arrest is out of political issue."
HRS's chief Dnananjay Desai's sister Rupali had come to court to meet her brother and kept chanting god's name during the entire hearing. Rupali claimed her brother was innocent and all the allegations against him were baseless. "He was in New Delhi when the violence occurred in Pune. He was planning to visit Nashik for an event but on June 2, around 3 am police came home and took him in custody. After the incident of defamatory material being circulated on social networking sites, he had advised us to remain quiet and not to take law in hand," she claimed.