Despite patrolling squads in action, 15 incidents of robbery reported on highways since Jan 1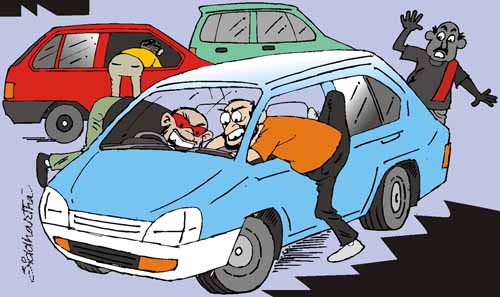 These incidents will force you to think twice before travelling on the highways.
Five passengers were looted at knifepoint by four unidentified persons at Shindewadi near Katraj on Mumbai-Bangalore highway on Monday night. The robbers fled with cash and gold worth Rs1.5lakh from the passengers enroute to Mumbai. A Pune builder and his family were looted of Rs3.80 lakh near Kesurdi village on Pune-Satara Road, about 60 kilometre away from Pune.
The next time you plan a trip through the highways, keep these incidents in mind and be alert. As many as 15 incidents of highway robberies, six each on Pune-Satara highway and Pune-Solapur highway have been reported since January 1.
Measures
Taking note of the rising spate of highway robberies, top brass officers of Pune rural police have now formed special teams on major highways and intensified night patrolling on these roads.
Apart from these roads there have been night robberies incidents on old Pune-Mumbai highway in the recent past.
Superintendent of police (Pune rural) Manoj Lohia said, "There has been about 20 per cent increase in the rate of the highway robberies in the past couple of months in the district. To curb these robberies, we have formed separate patrolling squads for the highways. We have allocated jurisdictions to these squads and have asked them to patrol the areas meticulously."
The exercise is being carried out since the past couple of months on old Pune-Mumbai and Pune-Solapur highways.
Senior police inspector Yeshwant Gawari of Rajgad police station said, "We have appointed a special team for night patrolling. The team will be lead by sub inspector-ranked officer along with four policemen."
Superintendent of police (highway) Dilip Bhujbal, said, "With the recent incidents of robbery on Pune-Satara highway, we have added two more jeeps and four motorbikes for night patrolling. We will be working in coordination with the local police station so that the robberies are curbed."
Modus operandi
According to Lohia, the robbers are mainly targeting Solapur highway and Mumbai-Bangalore highway in the district.
As per the Rajgad police station records, four night robberies took place where the commuters stopped their vehicle to attend natural calls and later they were looted at knifepoint.
Gawari said, "Robbers target long-route vehicles which stop at isolated spots on the highway."
"We suspect that one gang is operating on the highway in our area. The gang members come in a car or motorcycle and target halted vehicles. Thereafter, they brandish sharp-edged weapon to passengers and loot their valuables."
Bhujbal added, "Majority of the robberies take place during night when there are fewer vehicles on the road. Most of the time robbers tell the victim that the car tyre is flat. Sometimes the robbers dash the other vehicle and tend to pick up a fight with the commuters."
"It is important that the commuters who are travelling on the national highway at night should be more cautious and not stop their vehicles under any circumstance," he said.
The highway traffic police claims, only one case of robbery has been registered on Pune-Mumbai expressway last year.