The auto fare hike that was done in October 15 last year, which was set to the stage at 1.5 km minimum distance to ensure that the auto rickshaw drivers do not refuse passengers citing shorter distances. However the issue of refusal and charging excess money does not seems to get over as many as 416 complaint of refusal to ply and 158 complaints of charging excess money have been registered with the regional transport office (RTO), in the last four months.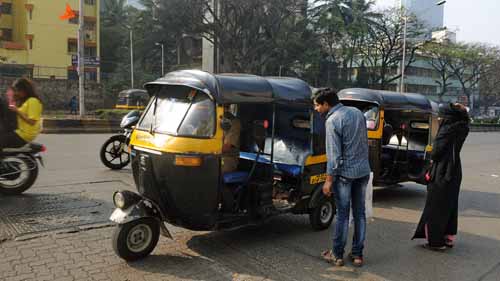 The Pune RTO officers claim that more public participation is required to curb the issue and put a stop on the problem that have been haunting the citizens for a long time.
Deputy Regional transport officer, Anil Valiv said,"After receiving the complaint the license of the auto rickshaw driver is suspended for 10 days and they have to pay a fine of Rs 500.If the complaint is for two offence like refusal and rude behaviour then we suspend the license for one month and take Rs 1000 fine."
The Pune RTO is now planning to streamline the process so that they can catch hold of repeated offenders and take appropriate action against the concerned auto rickshaw driver.
Regional Transport Officer (RTO), Jitendra Patil, said,"We are now planning to revise the mechanism wherein we can catch hold of repeated offenders and take appropriate action against them."
Patil adds,"In order to make this possible we will have to work in coordination with the traffic police department, only then we will be able to put a stop on the issue of refusal and excess money."
The Pune city traffic police department also takes action and they send the driving license to Pune RTO for suspension and to take action against the auto rickshaw driver.
Senior police inspector (traffic planning) Rajendra Kamire said,"We are planning to take drive along with the RTO officers so that immediate action can be taken against the auto rickshaw drivers who refuse to ply and charge excess money."
Top four areas in the city where number of cases of refusal to ply is registered at Pune RTO.
Kothrud
Aundh
Hadaapsar
Viman Nagar
More than 95 percent of the refusal to ply complaint are registered between 1PM to 8 pm.
Resident of the area who are facing the issue on daily basis.
Vikarm Bhide (35), resident of Kothrud said,"There is not a single day when the auto rickshaw driver does not refuse to ply. Sometimes it took more than 40 minutes to search for an autorickshaw that can ply to a shorter distance."
Sagar Adhav (28), resident of Hadapsar said,"It is a nightmare to take auto rickshaw after work as the auto rickshaw drivers just do not want to ply to a shorter distance of even two kilometer, I am left with no option but to catch a bus."
Top four areas in the city where maximum number of cases for excess money is registered.
Pune Station
Camp
Shivajinagar
Kondhwa
The auto rickshaw drivers starts charging excess money towards evening, as per the data of Pune RTO more than 90 percent of the complaints regrading excess money are been registered between 3 pm to 9 pm.
Vijendra Dhage (44), resident of Kondhwa said,"Even as the auto fare hike was done the issue of excess money is still not getting over. The auto rickshaw driver charge excess money as per their wish. Things turn bad during monsoon, I have even paid Rs 100 extra."
Piyush Singhania (29), resident of camp said,"I travel four times in a week by auto rickshaw, two out of four time the auto rickshaw driver charge excess money. As they claim that they wont get passengers and they will have to return empty."
Conveyor of the Rickshaw Panchayat Nitin Pawar said,"The fare hike was done after two years, there is no relevance between the fare hike and increasing number of refusal to ply by auto rickshaw drivers. Moreover the night fare had come down from 50 percent to 25 percent."
Pawar adds,"We have to serve the passengers as we are into public transport,in order to narrow the gap between the auto rickshaw drivers and the passengers we will be forming a committee."
Complaints registered with Pune RTO for refusal to ply and excess money between October 2013 to February 13.
Refusal
October: 100
September: 60
December:90
January:80
February:86
Excess money
October:33
November:20
December:43
January:35
February:27
BOX
Next time when you are taking the auto rickshaw and if the auto driver refuse to take you, demands for excess money apart from the meter or is rude while speaking to you then you could complaint to Pune RTO on their toll free number: 18002330012 (Monday to Friday 10:00am to 6pm and First and Third Saturday). Or email:mh12@mahatranscom.in
anuj.ismail@dna.india.net