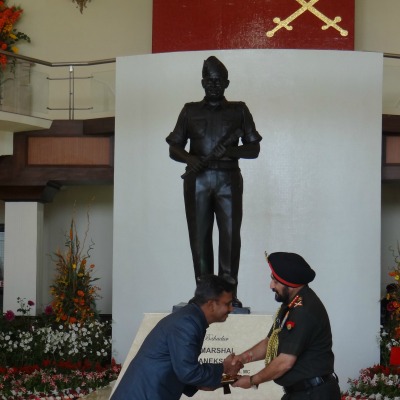 Pune: When the 9-feet tall statue of most illustrious field marshall of Indian Army and Late Field Marshal Sam Manekshaw was being unveiled in New Delhi on Thursday, a sculptor from Pune Abhijeet Dhondphale had a vital to play in it. It was his hard efforts that resulted into the beautiful statue.
Statue of Field Marshal Sam Manekshaw was unveiled at Manekshaw Centre situated on Parade Road in Delhi Cantonment area on April 3.
The function was organised to mark the birth centenary of the legendary marshall.
Dhondphale had sculpted the marshall's first statue which is installed in the Pune Cantonment area near Southern Command headquarters.
It was after this attractive statue that Dhondphale was assigned this job.
Dhondphale told dna that it is perhaps for the first time that such a 9-feet tall bronze statue has been transported from Pune to Delhi.
He said that when General Bikram Singh gave me an appointment to present a small bust of Field Marshal Manekshaw today, it was my most memorable moment.
Dhondphale said, "General Singh gave ten minutes to me and discussed many things. The country is celebrating the birth centenary of the legendary marshall of 1971 Bangladesh war who had the courage of telling the political leadership that too of Late Indira Gandhi that it was not the right time to go for a war."
Thus the country of Bangladesh was formed.
It was after that the nation got its first Field Marshal in Sam Hormusji Jamshedji Manekshaw whom people fondly refer to as Sam Manekshaw and Gorkhas know him as 'Sam Bahadur'. Army chief Bikram Singh, while unveiling the statue, expressed the need to inculcate conviction and courage shown by the field marshal to tell it to the political leadership about right time to go for war.
He lauded Manekshaw who created a country in just 13-days. Manekshaw's daughter Maja Daruwalla and her husband Dhun Daruwalla were also present for the function.