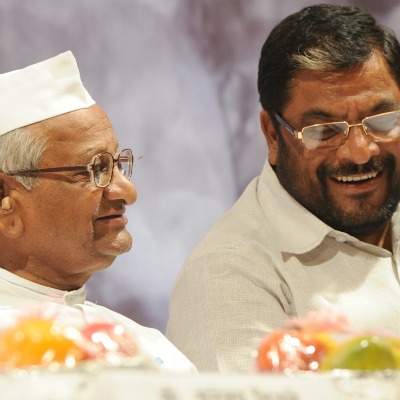 Pune: Predicting a majority for NDA, social-worker Anna Hazare on Monday said that despite being an alliance government, it will not have too many alliance partners. Hazare was address the media after the book launch of 'Ladha Lokpalacha...Udrek Aam Aadamicha' by journalist Dhananjay Bijale.

Ridiculing the idea of a 'Modi wave' in the country, Hazare said, "Whichever government comes to power, it would not have too many partners and will be stable." He said that mood of the people indicates an inevitable change, given the 20 per cent rise in voter turnout. He said that youth is angry with the system, and they would bring about the change.

Announcing his nationwide tour, Hazare said that his tour will start a month after the election results are declared. Adding 50 to 100 youth from every village he aims to galvanise the nationwide agitation for 'Right to Recall', suggesting that the None of the Above (NOTA) option on voting machines will not serve a purpose. He said that if NOTA gets maximum votes, then a fresh election with ban on all the earlier candidates should be held, which will keep criminals and corrupt politicians away from politics.
Justice for Dabholkar
Criticising government on its inability to crack the Narendra Dabholkar murder case, MP Raju Shetty said, "The government has to first come clear on whether it really wants to crack the case or not. On one hand, these people talk about bringing Dawood back and on the other, they fail to nab killers of a social worker like Dabholkar. This is creating a doubt on their intentions, and the government has to spell out its priorities in this regard."