Cutting across caste lines, members of different communities came together to provide service to warkaris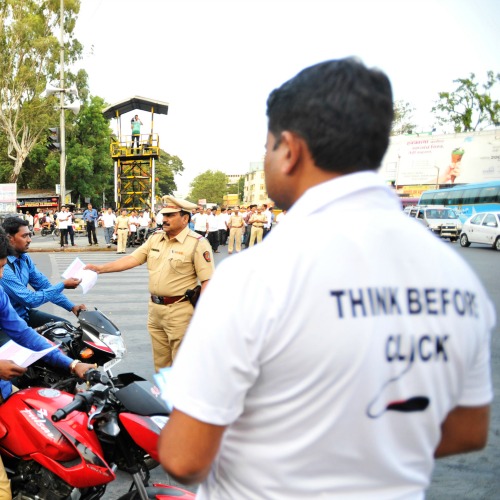 Pune: In a bid to rebuild peace efforts and break down communication barriers that came up between different communities, members of both Hindu-Muslim community came together on one platform to provide service to pilgrims (warkaris) during the annual Pandharpur pilgrimage taking a step forward by medium of Palkhi to rebuild the peace efforts.
Under the umbrella of Hindu-Muslim Ekta Jagruti Abhiyaan distributed dates, bananas and other fruits to the warkaris and even offered floral tributes to the palkhi as a part of their solidarity gesture aimed at cementing Hindu-Muslim unity on Monday morning. The area has been tense after a young IT professional was done to death by goons belonging to Hindu Rashtra Sena (HRS).
According to Ikram Khan, who is the coordinator of the initiative taking into account the disharmony spread by vested interests in the recent past, the area residents felt the need to show their solidarity behind communal harmony and took the initiative to spread the message of peace.

"The warkaris were very happy at our gesture and promised to spread the message of brotherhood throughout their journey to Pandharpur and ever after completion of wari pilgrimage ," he added.
While every year, members of Muslim community do come together to offer services to pilgrims during the wari, this is the first time that a special initiative was thought for Hadapsar area where violence had recently spoiled relations.
Hanumant Patil , a warkari from Latur said, that he was touched by the kind gesture. " I believe love, compassion and respect for each other's faith is far above all the differences. I along with my Dindi workers will ensure that we spread message of religious unity amongst the countrymen ," he added.
Dilip Tupe, social worker from Hadapsar said that many more initiatives aimed at bringing about unity amongst the citizens in the city would be undertaken post the pilgrimage as well.
Meanwhile another group, Awami Mahaz, a muslim social organisation based in Pune Cantonment, organised a free medical and dental check up camp for the warkari's. General Secretary Iqbal Mulani said that free distribution of medicines and health check up of the pilgrims was done in association with Rangoonwala College of Dentistry and Unani Medical College, Azam Campus as a mark of respect to the Warkari's.