Mumbai girl was murdered after refusing to help in boyfriend's Nigerian fraud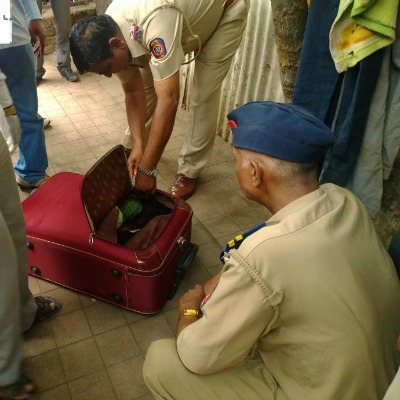 Pune: Refusal to cooperate in boyfriend's Nigerian fraud plot led to the murder of standard XI girl from Wadala, Mumbai whose body was found in a suitcase on the railway tracks at Talegaon railway station on Wednesday. The victim Rani had eloped 15 days ago with her married boyfriend, Santosh Vishnu Jugadar (31), a history-sheeter involved in murder and Nigerian fraud cases.
Pune Government Railway Police (GRP) sleuths said that Rani was murdered in Mumbai on Tuesday night after she refused to cooperate with Jugadar in his racket. A SIM card found in her innerwear led the police to unveil the entire plot. On Thursday, Pune GRP and local crime branch arrested Jugadar and his two accomplices Rahul Baigi (21), a resident of Sion Koliwada and another Ishan Hamjan Ali Qureshi (21) of Wadala's Antop Hill area.
Vishwa Pansare, superintendent of GRP, said the murder took place in a rented room in Mumbai's Nalla Sopara. "After eloping, the girl had started living in Nalla Sopara, where he told her about his activities. She refused to cooperate and he felt threatened and decided to kill her. To plan the murder, he visited Pune as a recce. Jugadar and his friends had bought a red coloured suitcase from Dadar area on Sunday evening,"he said.
"Jugadar then told his accomplices to go the house on Tuesday and kill Rani. The two others are second year B.Com students who work in his gang. According to the post mortem report, death is due to strangulation but she has injuries to spinal cord and head which indicate a struggle before she was killed. The boys then put her body in the suitcase and were co-ordinating on phone with Jugadar who instructed them to bring the body in a taxi to Sion area. They were scared of the stench being detected in the bus and hence a cab was booked on phone for Pune. Jugadar accompanied them to Pune railway station and from here, they took an autorickshaw and brought the body to Talegaon railway station," said Abhay Parmar, inspector, GRP.
Here they parted ways and the bag was with one of them, who boarded a Pune-Lonavala local. "Seizing a moment, the suspect pushed off the bag onto the tracks from the moving train and then they returned to Mumbai," added Parmar.
Local crime branch police inspector Arun More said based on the clues from call records, the two students were first arrested from Wadala area who helped police lay a trap for Jugadar.
The trio was produced in the JMFC court, which remanded them in police custody till May 13.