With no assurance of CBI probe into BJP leader's death, crowd vents ire at VIPs, cops l Even CM not spared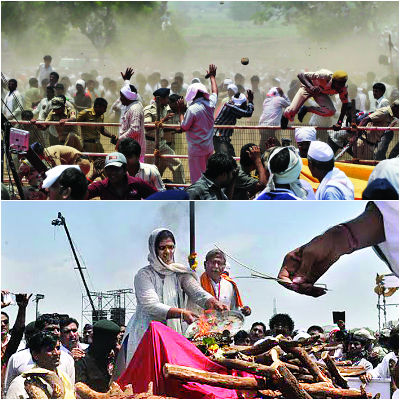 Parli, Beed: Emotions ran high as a sea of humanity converged at Union minister Gopinath Munde's funeral in Parli, Beed district, on Wednesday. The situation turned violent after teary-eyed supporters failed to get an assurance for their demand of a CBI probe into their leader's death in a car accident in Delhi on Tuesday. An estimated two lakh people attended the funeral.
As grief gave way to anger, a section of the crowd indulged in stone pelting at the Vaijyanath Co-operative Sugar Factory ground where the funeral took place. Even CM Prithviraj Chavan was not spared. While people gheraoed the vehicles of LK Advani and other leaders, a police jeep was set ablaze. Former BJP president Nitin Gadkari, perceived to be Munde's rival, could not even go to the funeral site. Munde's daughter Pankaja and the police unsuccessfully appealed for calm. The police had to resort to lathi-charge to control the crowd.
Earlier in the day, Munde's body, draped in the Tricolour, was flown in an Indian Air Force helicopter to his hometown where chants of "Gopinath Munde amar rahe" filled the air. Munde's daughter Pankaja performed the last rites. A 21-gun salute was given to the departed leader.
Among those present were Shiv Sena chief Uddhav Thackeray, Maharashtra BJP in-charge Rajiv Pratap Rudy, Prakash Javadekar, BJP state unit president Devendra Fadanavis, home minister RR Patil, Poonam Mahajan, Kirit Somaiya, Chandrakant Khaire, Madhya Pradesh CM Shivraj Singh Chouhan and Chhattisgarh CM Raman Singh.
A massive crowd began gathering at the venue since early morning to catch a last glimpse of their leader. Such was the atmosphere that even policemen could not hold back their tears.
It was decided that Munde's body would be brought to his house, but after taking into account logistic issues, the chopper was directed to land at the sugar factory ground. The funeral was initially scheduled to be held at Totla ground, but it was not large enough to accommodate the massive crowd. So, it was shifted to the sugar factory ground. This, coupled, with the confusion over the funeral timing added to the chaos.
A platform was erected to keep the coffin box so that people could pay their last respects. But people began crowding the area which made it difficult to manage the crowd. A section of the crowd was denied forward movement because of which they started pelting stones at the police. Some even raised slogans against Gadkari and Sharad Pawar. Interestingly, Chavan and Gadkari did not go to the platform where Munde's body was kept.
Inspector general of police, Aurangabad range, Amitesh Kumar said: "The moment the pyre was lit, there was an emotional outburst. We ensured that the VIPs were escorted back safely. There was minimum lathi-charge, mainly to disperse the mob. Seven constables were injured in the stone pelting and we have arrested 20 people so far."
The police said they thought the crowd would settle down after Poonam Mahajan and Pankaja Munde appealed for calm.