Swami Durganand Nadkarni was booked in 1990 for alleged inflammatory speeches and writings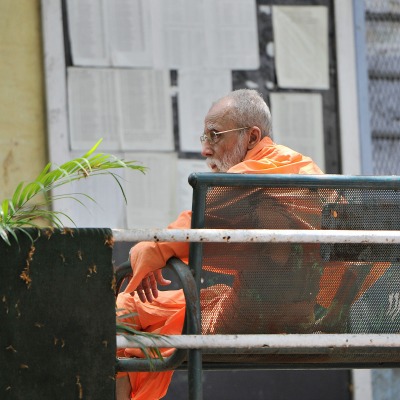 Pune: It took 24 years for the sleuths of Deccan-Gymkhana police station to arrest a 78-year-old RSS pracharak from the city. The RSS pracharak Swami Durganand Nadkarni, currently living a life of 'sanyasi', was booked for alleged inflammatory speeches and writing in 1990 and went absconding after a case was registered with the police station.
According to the cops, Nadkarni is the spiritual guru and even chief minister of Goa, Manohar Parrikar had visited him to seek his blessing. Back in 1990, the cops had lodged a complaint against Nadkarni and Milind Ekbote, the founder of Hindu Janjagriti Samiti and Hindu hardliner under section 153 (Promoting enmity between different groups on grounds of religion, race, place of birth, residence, language, etc., and doing acts prejudicial to maintenance of harmony) and 34 (common intention) of IPC.
As per the information given by the senior police inspector Pravin Chaugule of Deccan-Gymkhana police station, Nadkarni and Ekbote had written something inflammatory with the intention to create rift between two religions and delivered some inciting speeches against a community. He said that after the case was registered, Ekbote was arrested and released on the bail, however, Nadkarni went absconding. "Nadkarni, before leaving the city, continued as Rashtriya Swayamsevak Sangh pracharak and was instrumental in nurturing numerous swayamsevaks and karyakartas (volunteers and workers) of RSS," he added. Police naik, Mahesh Nimbalkar, who traced Nadkarni, said that as he was in the wanted list of the city police, they tried to trace his whereabouts and found that he was currently staying at Fonda in Goa and living a life of Sanyasi. He said that after leaving Pune, he kept touring India and had taken Sanyas in Rishikesh.
"He has been living an austere life at Fonda in Goa. One of the disciples of Nadkarni, who had come to Pune along with him said that the Deccan-Gymkhana police informed them about the case and Swamiji himself showed interest to come to the city. As per the promise, Swamiji came to the city on Tuesday," he added.
The Deccan-Gymkhana police produced him in the court, on Tuesday afternoon, where he was released on bail. Born as Durganand Nadkarni in 1936 at Ankola in Karwar, he came in contact with Rashtriya Swayamsevak Sangh in 1942.