The city college boasts of a total pass percentage of 96.84 this year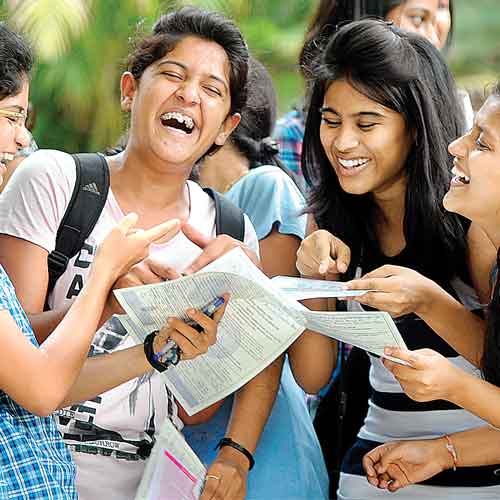 Pune: Keeping up with the 'top class' tradition, girl students at Fergusson College have yet again bagged numero uno positions. Maitreyee Marathe topped in the science stream with a score of 95.23 per cent. In the arts section, Tanvi Salunkhe secured the first rank by scoring 94 per cent.
Dnyanada Joshi received an award from the HSC board's Pune division for securing highest cent per cent marks in mathematics from the same college.
Another student from Fergusson College, Tanmay Khare too scored 100 marks in Chemistry and received a cash award of Rs1,000 from the division.
While speaking about her success, Maitreyee, said, "I had never expected to get these marks. I am feeling very happy after bagging first position in the college."
According to Maitreyee, as she was preparing for IIT (JEE), it was very easy for her to study for the board's curriculum as she made it a point to revise of lessons that were taught in the classroom on the same day. Taking about her future path, she says that she would like to follow her parents footsteps. "I want to be an engineer and I am confident of clearing the IIT JEE exams," she said.
Salunkhe, who secured first rank in Arts stream with 94 per cent marks, said, "I am still not able to believe that I have topped in the college." She wants to pursue mass communication and become a photojournalist. "I love traveling so probably I will pursue a career in that," she added.
At Fergusson College, the total pass percentage this year stood at 96.84 per cent—96.47 per cent in the science stream and 97.51 per cent in arts.
While speaking to dna, the principal of the college, Dr Ravindrasinh Pardeshi, said that the blind student percentage is 100 per cent as 20 students appeared and all passed with flying colours.
At Brihan Maharashtra College of Commerce
(BMCC), the pass percentage is 98.15 per cent with 19 students having secured above 90 per cent. Anup Shah topped the school with 94.15 per cent where as Arjun Jhawar scored 94 per cent in Commerce section.
At Sir Parshuram College, Sandesh Kalantri scored 94.31 marks in Science stream and in Commerce section, Priyanka Degvekar secured first position by scoring 88.77 per cent. In the art section, Chinmayee Aphale secured first rank in Arts stream with 91.38 marks.