Booty of `80Lakh recovered from them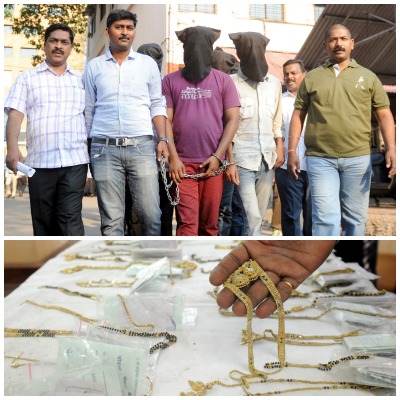 Pune: The crime branch (unit III) of city police have arrested an interstate gang of five chain snatchers from Nigdi who have been allegedly involved in 150 chain-snatching cases in city. The police have recovered gold chains worth of Rs80 lakh from them.
The arrested persons have been identified as Sajjad Pathan alias Irani (29), Shabbir Shaikh (24), Vivek Sasane (43), Aalim Pathan (21)- all residents of Shreerampur and Saleem Shaikh (22), a resident of Bhusawal.
The police have also recovered two four-wheelers and a superbike from them. They found 10 gold chains and 8 rings in the car. A country-made pistol, two live cartridges and two choppers were also recovered from them.
During the interrogation, the gang members revealed that they committed the crime from April 9 to 12.
Additional commissioner of police (crime) Shahji Solunke said, "The gang has a particular modus operandi. Few of them used to travel in the car and another accomplice would be in the bike."
Solunke said, "Sajjad Irani used to come to the city along with the arrested accomplices and two absconding accomplices Haidar Irani and Mustafa Irani with the intention of chain snatching. They used to come for four or five days in the city and after committing the crime, they used to leave for Mahabaleshwar and stay in lodges."
Assistant commissioner of police (Crime) Rajendra Bhambare said, "The gang committed the crime in Maharashtra, Gujarat, Rajasthan, Madhya Pradesh, New Delhi ,Haryana, Andhra Pradesh, Karnataka, Tamil Nadu and Kerala.
In Pune, they committed 150 cases of chain snatching in 2013 and 2014."
Bhambare said, "They used to target women and senior citizens. They used to stop them inquire for an address and snatch their belongings. They also used to dupe people as police."
Sunil Pawar, senior inspector (Crime branch unit III), said, "Most of the chain snatching incidents took place in Kothrud, Sahakarnangar, Deccan Gymkhana, Faraskhana, Khadak, Warje Malwadi, Vishrambaug, Chaturshrugi, Hinjewadi and Pimpri Chinchwad."
All five were produced in the court of judicial magistrate (First class) in Pimpri court and have been remanded in police custody till April 28.