Pune: Retaliating to outgoing Maval MP Gajanan Babar's allegations, Shiv Sena candidate from the region Shrirang Barane on Wednesday said that Babar's allegations are baseless and out of frustration for not getting a party ticket for Lok Sabha elections.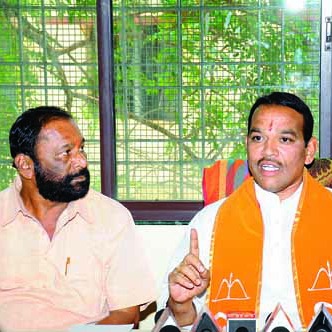 Barane, who is also the Shiv Sena group leader in Pimpri-Chinchwad Municipal Corporation (PCMC), said that his candidature was fixed almost three years ago and Babar was aware of it.
He said, "If at all Babar wanted to resign from the party, he should have done it three years ago since everybody in the party knew that I am going to be the candidate for the elections."

Shiv Sena Raigad district unit chief Baban Patil, PCMC city unit chief Bhagwan Walhekar and Machhindra Kharade accompanied Barane at the press meet.

"Despite the fact that Peasants and Workers Party (PWP) leader Jayant Patil has assured his support to MLA Laxman Jagtap, the PWP would stand by the mega-alliance of BJP, Shiv Sena, RPI and Swabhimani Shetkari Sanghatana," said Patil, adding that he had a word with PWP legislature Vivek Patil in this regard.

Sitting MP Babar on Tuesday resigned from Shiv Sena after he denied party ticket for Maval Lok Sabha constituency. Babar had accused the party selling tickets and the party is no more being run the way it used to be run during era of Balasaheb Thackeray.


Barane said that it was Shiv Sena chief Uddhav Thackeray who had given him Green Signal for preparing for Lok Sabha elections.

Box item


Meanwhile, NCP is finding it difficult to get any candidate in Maval, and it is likely that MLA Laxman Jagtap would contest as an independent and later help NCP in the Parliament if he wins the election.

Jagtap said the issue of illegal constructions and transfer of former PCMC commissioner Shrikar Pardeshi will cost the party dearly. Jagtap s likely to announce his candidature on Friday.



Sena LS candidate from Maval Shrirang Barane (right) refuting allegations levied by outgoing MP Gajanan Babar