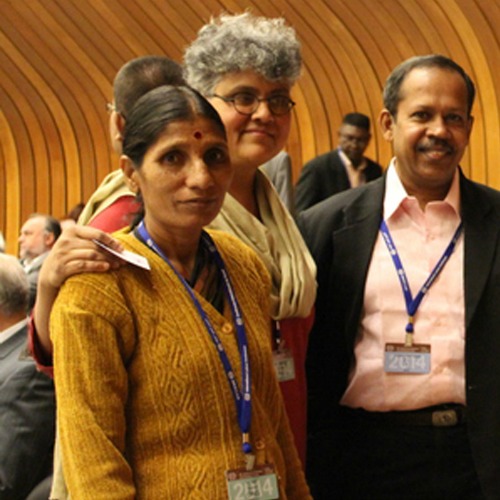 Pune: When Suman More, 55, began picking up waste from the streets of Pune about 30 years ago, little did she know that one day she will be addressing delegates at the International Labour Conference in Geneva. Delegates belonging to labour and industry bodies from 185 countries listened to More's story intently. Her only plea, to have recognition for waste pickers as labour so that they can avail employment benefits like other people.
Harshad Barde, a researcher and activist with Kagad Kach Patra Kashtakari Panchayat, an organisation that backs More, said, "Last time, she could not go because of visa-related issues. However, this year, she has the chance to give a first person account of the hardships that waste pickers face in India." He further added, "Citizens often take things such as Sunday holidays, pension and other benefits for granted. Informal workers have no such benefits."
Those who have worked with More at the grassroot level feel that her presence at the conference will bring in the much-needed attention to a working model that can provide solution to the waste management problems in the developing nations. Maitrayee Shankar, who works directly with More said, "Like More, many migrants from Marathwada were denied work because of their caste when they came to big cities like Pune. But More built a life out of picking up garbage of those who denied her a job." She added that waste pickers contribute largely to the economy of India — it is a micro-economy by it self and formalising this informal industry will change how people look at it.
A co-worker Arti Kakade said, "It is great to get international acknowledgment for our work. It helps immensely in changing the perception of the citizens."
For More's family, this conference is a proud moment. Her son Laxman said, "She scavenged through piles of garbage to earn just Rs15 to make sure we had food on our plates and books in our bags." He recalled how More's efforts to make a living out of waste picking helped them find a permanent home in a 10 x 10 ft room in Gultekdi area of Pune. Having been to Nepal and Durban, South Africa, for UN's Climate Change Conference in 2013, this will be More's first try at seeking human rights for the community.
With More representing India at an international conference, she draws attention to a meagerly acknowledged truth about developing countries — lack of labour rights. During her address she said, "We are at the important bottom of the pyramid of recycling value chain. We create jobs in intermediate materials processing and manufacturing. We are the guardians of the green economy, but our working condition is far from decent. You can help to change this."
The 103rd Session of the International Labour Conference, happening between 28 May & 12 June 2014 will see delegates akin to More's profession addressing industrial and social bodies from around the globe.