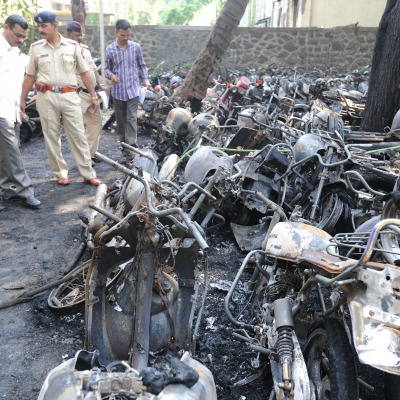 Pune: As many as 50 scrapped two-wheelers were completely gutted after a fire broke out in Pimpri police station during the wee hours on Saturday. However, no casualties have been reported in the incident. The cause of the fire is still unknown.
Initially, the police thought it to be a case of short circuit, but later police ruled it out. A few policemen are of the view that someone might have thrown a lighted matchstick that resulted into the fire. But the senior cops have ruled out this possibility.
Deputy commissioner of police (Zone III) Rajendra Mane said that the fire broke out all of a sudden and engulfed the area where scrapped two-wheelers were kept. "There is absolutely no question of police setting fire to the two wheelers. Why will anyone set afire the scrapped," he questioned.
"We are investigating whether the fire was caused by an accident or was an act of sabotage," said B B Mudiraj, Pimpri police station in-charge.
According to the fire brigade officials, the fire broke out around 3 am on Saturday and was brought under control within 40 minutes. Two fire tenders were pressed on duty to douse the fire. The fire brigade officers, too, are investigating to ascertain the exact cause of the fire.