To ensure hygiene this year during the procession, the administration has asked all stall owners to apply for permission to serve food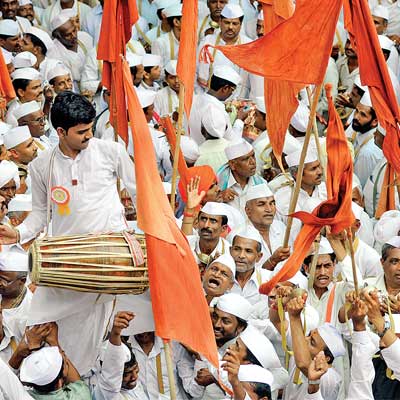 Pune: Sant Dnyaneshwar and Sant Tukaram's Palkhis will be in Pune on June 21 and 22 and thousands of warkaris and worshippers who want to take blessings are expected to gather at temples in Alandi and Dehu.
Every year, many Punekars set up small stalls that provide free tea, sugarcane juice, vada pav, idlis and other food items that the warkaris can carry and eat on their journey.
The Food and Drug association of Pune (FDA) has made it compulsory for all people who plan to set up food stall to provide free food for these warkaris to seek permission from them before setting up a stall. Speaking to dna, Shashikant Kekare, Joint commissioner of FDA, Pune said, "The aim of this is to make sure we have information about people and hotels that are planning to set up free stalls. Through this we can make sure the food being provided is not of low quality just because it is being provided free of cost."
The process to register for the same is simple, all the shop owner or an individual who wishes to set up a food stall has to do is log in tofoodlicensing.fssai.gov.in, and complete the licence acquiring process by paying the appropriate fees. FDA does not want people serving food that is uncovered or water that is contaminated. It also wants people and shop owners to make sure the cleanliness is maintained as people come in large number which creates a lot of plastic and paper garbage that could be avoided.
"We will compile a list of people that have registered and from 16th onwards we will be visiting the restaurants and small sweet marts that are on the way of the Palkhi's path to make sure the hygiene and food quality is up to mark," added Shashikant Kekare. They have urged the people to register in numbers and make sure there are no problems occurring when the Palkhi stays in Pune.
Like every year, The Pune Municipal Corporation's (PMC) ambulance comprising of 2 doctors, 2 pharmacists and 2 nurses will travel with the Palkhi from Pune to Pandharpur to offer on the spot first aid as well as other medical help to the warkaris. Besides this, PMC's health department will have a mobile medical unit that will travel from Vishtrantvadi to Sakhalpir talim in Bhavani Peth along with the Varkaris. The mobile medical unit will have a doctor, a nurse and a pharmacist and will provide first aid free of cost to the Varkaris should they need it during their stay in Pune.
Cops create diversions for procession
The Pune rural police have geared for the Palkhi procession of Sant Tukaram and Sant Dnyaneshwar which will start from Dehu and Alandi on June 19 and June 20 respectively. Considering the huge turnout of devotees, police has made elaborate security and traffic arrangements on the Palkhi route. Approximately 550 'dindis' will be participating in the palkhis and both the palkhis will arrive in the city on June 21.
There will be two separate
mobile control rooms, manning both the routes for the two processions of various dindis ,equipped with cell phones and wireless sets.
Going through Pune
If you are coming from Mumbai and going towards Solapur then take the Dehu road bypass right from the highway towards Katraj Octroi plaza going to wards Undri, Pisoli and Devachi Urali and then turn left towards Hadapsar and then a right to Solapur Highway.
Should you be going from any of these areas towards Mumbai then take a left from the Solapur highway and go via Devachi Urali, Pisoli, Undri towards Kondhwa and Katraj.
Should you be using the Nagar Road to arrive into Pune and go towards Mumbai instead of entering into the city use Shikhrapur- Chakan, Indoori, Talegoan route.
For those who plan to commute their usual routes within the city do keep in mind that on the 20th June Sant Tukaram Palki will leave from Dehu and will travel towards Akurdi for a overnight halt. Sant Gyaneshwar Maharaj Palkhi will be halting at Gandhiwada in alandi on the 20th . On the 21st the two Palkhi processions will merge in Pune which means the following routes will have diversions.
Inside the city
Inside Pune the following routes will be shut on the 21st from 12 pm onwards Range Hill Chowk to Sancheti Chowk via university instead use the old Mumbai pune highway. Fergusson college road will also be closed so instead use S B road around NCC ground to reach the University Circle. Shaniwar Wada to Shivaji road will be inaccessible to vehicles, alternately you can use premier garage chowk to corporation building going via Jhansi rani chowk i.e Balgandharva bridge via Tilak chowk alternately you could also take Gadgil Statue via RTO chowk towards Shaniwar wada or use Kelkar Road, Shashtri Road and Sinhagad Road.
Deccan Gymkhana to Modern College will also be shut. Use Ghole Road and Apte road.