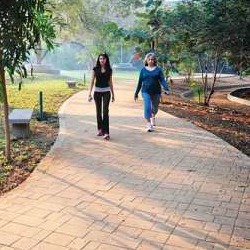 Pune: While the space for pedestrians in the plush area of Koregaon Park is shrinking, residents of the area have joined hands and they have demanded speeding of the jogging track work in Damodar Wagaskar garden which has been delayed from last several months.
The residents have claimed that on one hand Pune Municipal Corporation is reducing the space of footpaths and on the other hand they are not expediting the work of the jogging track as a result of which the cost of the track is escalating.
The members of Koregaon Park Mohalla Committee recently held a meeting with local corporator Rajendra Wagaskar of MNS and raised issues regarding the delayed work in Damodar Wagarskar garden which is situated between lane number of 4 and lane number 5 of Koregaon park area.
Bishnupriya Chakravarti, member of the Mohalla Committee said, " The park should have been completed by now but there has been delay in completing the construction of the garden. We want safer place for our citizens for exercise and walking and the garden's jogging track will be very useful but the track is not yet constructed."
The residents have also demanded that there is no harm in charging small maintenance fees so that the garden will be maintained properly. The garden is partially completed and the children area has been opened for children to play. The civic authorities have closed down a gate at lane number 5 for security reasons. However, the residents want the gate to be opened for citizens convenience.
Chakravarti said, " Earlier the gate was open but recently it has been closed. The authorities claimed that some of the miscreants are entering into the garden. However, we are demanding that the gate should be open at least for couple of hours in the morning and in the evening as the gate is very convenient for many residents."
When dna tried contacting Wagaskar but he was not available for comment.