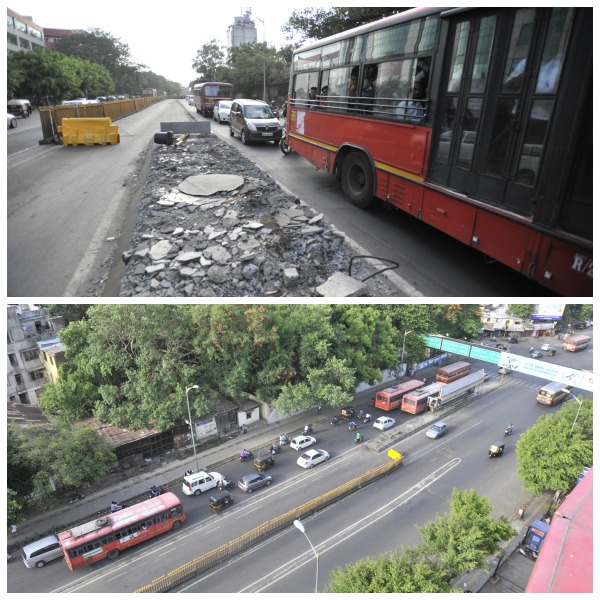 Pune: If you are travelling towards Swargate then get ready to spend more time in the traffic as the work of Swargate flyover has begun.
Following the work of the flyover, the Swargate Bus Rapid Transit System (BRTS) route has been closed, which means that the Pune Mahanagar Parivahan Mahamandal Limited (PMPML) buses will be plying from the common route resulting in heavy traffic.
The 1.4 km L-shaped flyover, cost of which is around Rs158 crore, is likely to get over by 2016.
The flyover will connect Shankarseth Road to Satara Road. The flyover is expected to ease traffic on this route, especially for PMPML and State transport buses. The flyover is also expected to reduce traffic burden in Swargate area.
Mayura Shindekar, Chief Executive Officer of the PMPML, said,"Due to the construction work of the flyover, the Swargate BRTS route leading toward Shankarshet road is been closed from Monday. The buses will ply from the common route until completion."
The situation will further worsen with likely removal or modification of traffic signals, at both Jedhe chowk and Laxmi Narayan junction, with continuous vehicle movement, pedestrians will not have any safe opportunity to cross roads.
Additional city engineer and traffic planner, Shriniwas Bonala, of Pune Muncipal Corporation (PMC), said,"The recommendations for construction of a flyover at Swargate have come up in several reports including the Integrated Road Development Plan of 2001 which had proposed two flyovers-one at Swargate and the other near Market Yard. In order to curb the traffic menace in the area constructing a flyover is the only alternative solution."
The Swargate junction is one of the busiest place in the city with five main roads converging here.
The traffic is marked by heavy movement of pedestrians and vehicles with the presence of two major bus terminus.