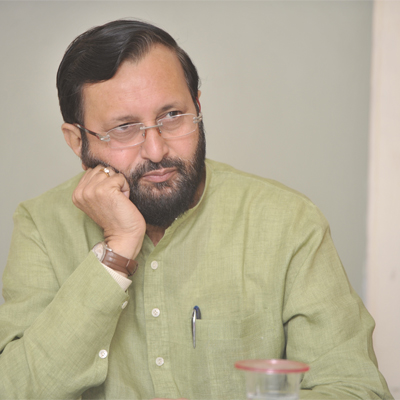 Newly instated Union minister of state for information and broadcasting Prakash Javadekar and his mother Rajani were in tears when his mother said, "Aaj Baba Hawe Hote (I wish your father were here today)," when he visited her on Sunday.
During his first visit to his hometown after his induction in to the Union Cabinet, Javadekar made it a point to visit his widowed mother's house at Vadagaon Dhayari, on the outskirts of Pune.
All the Javadekars including the minister's sisters and other relatives had gathered at their one BHK ground floor flat in Dhayari.
Javadekar's father Keshav Krushnaji Javadekar was a well-known journalist of his time and passed away on February 2 this year. On entering his parental home Javadekar knelt before his father's photograph. He was served his favourite Marathi sweet shira by his niece. After he took charge of his Union Minister portfolio his mother had distributed pedhas in the neighbourhood.
Javadekar told the media it had been 100 days since his father's death. He said, "Had he lived for 100 more days, he would have been there to see this day."
Javadekar's maternal cousins, sisters and their family members had gathered at their small flat in Dhayari to enjoy a 30-minute get-together.