Poornima, a 65 year old Asian elephant who was found abandoned on the streets in 2008 died on Friday, March 20. Activists claim it was neglect and starvation while school officials say it was a natural cause. warning: images are graphic in nature.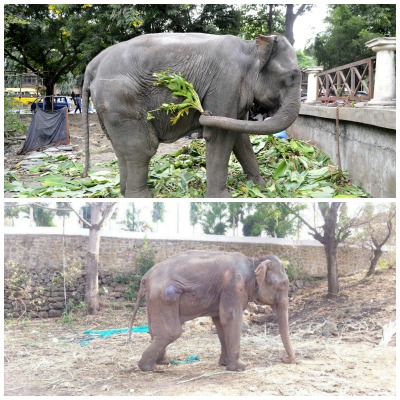 Pune: Friday afternoon was a frantic one for Animal Welfare workers in Pune who rushed to the Aaryans world school in Katraj. Poornima, A 65 year old Asian elephant who they had been trying to rescue had finally succumbed to the poor health and passed. Monoj Oswal, animal welfare officer appointed by the government to look into Poornima's case had earlier this week reported alleged assault by the school guards while he was there to inspect Poornima the cow elephant. Milind Ladge, Chairman of the school said "We did not assault him, on the other had we were working together to help Poornima." Ladge added that recently Oswal had been coming to the school with foreigners and collecting money from them under the pretext to help Poornima. According to Oswal he had a court order to inspect Poornima and ensure she is relocated by march 20.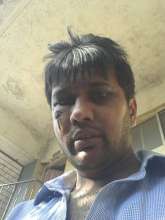 In 2001 Oswal carried out an investigative study on Poornima who was then owned by mahout Santosh Pandey. Pandey was reported to use a stick and ankush to control Poornima and make her beg on streets of Pune. The report indicated the terrain and environment unsuitable for an elephant to be in. She was 52 then. According to records, later Ved Prakash took over.
Out of use for her mahout, she was eventually abandoned and left to die. She was found and relocated to the Rajiv Gandhi Zoo.
Orphaned Poornima was then adopted by Aaryaans World School in September 2013 and given a home in the backyard of the premises.Ladge told dna about her condition then, " We saw her in Patil Plaza and took her in, she was not healthy even then. She had pain in her femur and sores all over her body so we consulted the best doctors to treat her". Her arrival was celebrated with a large celebration complete with a meal of over a 100 bananas and a chocolate cake. Oswal who is also a part of People For Animals (PFA) voiced that the school did not bother to take permission to adopt her and that that appropriate medical care was not being given to her.
Poornima had spent a majority of the last 6 months in the backyard of a school and was allegedly uncared for. Ladge said,"She was more than cared for, we loved her. We had two cranes to hold her and even brought in 7 tankers of water so she could float in a pool to ease her pain." The school officials said that Poornima died of natural causes. Ladge further added, "One night in October her previous mahout took her away during Navratri season saying she was his and suddenly on January 17 brought her back in extremely poor condition."
Poornima was scheduled to be moved out of Pune to Wildlife Rehabilitation and Research Centre (WRRC) in Bangalore for treatment on Oswal's recommendation. Earlier Ladge has seeked the help of an elephant rescue shelter in Agra as well, however AWRI officers and vets who inspcted her reported her to be too ill to be moved in this condition. Ladge assured that Poornima was being fed via other techniques as suggested and supervised by vets and that doctors working round the clock to bring her back to health so she could be taken to Bangalore.
Activists blame the school for Poornima's condition while the school claims to have done everything possible to save an already ailing elephant.
Meher Patel Mathrani, a worker certified by Animal Welfare Board of India (AWBI) in Pune said " Citizens' indifference to these activities just because they are not actively involved is nothing short of endorsing these situations and contributing to encouraging cruelty to animals whose place on earth is in the wild"
Oswal plans to lodge a F.I.R against the school officials, " Firstly Poornima was released to the previous owner but the school simply took her in without official papers, secondly I was beaten up when I tried to go to check on her and thirdly court order was not respected which is contempt of court." He told dna. He expressed his shock as he got the news of Poornima's death, "Her body was butchered with a knife, even a post mortem would not be possible now. She was neglected by the school and she died due to starvation."
On the subject of post mortem and not following a protocol Ladge said "Doctors advise was being followed and we have followed the protocol to our best possible knowledge. An elephant is a huge animal and weighs over a tonne, we took every precaution in the book."

(Left) Poornima when she died.(Center) Allegedly tied, decorated and moved for a death ritual.(Right) Allegedly cut open without following protocol. - Photos , Manoj Oswal
Poornima's History:
1949 Born wild, Origin : Varanasi, Uttar Pradesh
2001 Sundera Varma, David Abrahm and Manoj Oswal carried out an investigation report on Poornima available here
2008, Katraj Zoo authorities moved an application before Judicial Magistrate (first class) S J Ansari to hand over the custody of the pachyderm to forest department as they could not take care of her because of paucity of funds. Later Ved Prakash had taken over her custody.
2009, Poornima flung a pedestrian who came under the wheels of a Pune Mahanagar Parivahan Mahamandal Limited bus and died.
2013 Sept , She was adopted by Aaryans World School with a party complete with cakes and fruits.
2013 Oct, School officials claim she was taken away by her mahout who was supposed to be her rightful owner.
2014 January 17, Poornima was returned to the school in poor health.
2014 March 15 , Manoj Oswal got a court order to move her to Wildlife Rehabilitation and Research Centre(WRRC)Bangalore
2014 March 20, Manoj Oswal claimed alleged assault by school guards at the school grounds.
2014 March 21 2.30 p.m, News of Poornima's death reached animal rights activists in Pune.