True to its name, Green Land Coop Hsg Soc in Vimannagar is known for its environment friendly ways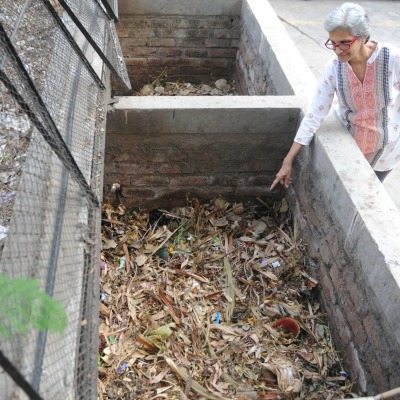 Pune: Efforts by residents of Vimannagar-based society have resulted in not just conservation of energy but has also prevented river pollution.
The residents have been contributing for the larger interest of environment through their since a decade.
Green Land Cooperative Housing Society in Vimannagar is a Green Society in a real sense and many people from city have visited it to take lessons.
Col. (Retd) Shashikant Dalvi, an entrepreneur in the field of rainwater harvesting took up the cause after his retirement from the Indian Army.
Dalvi is the chairman of the society which has 57 families. Their efforts in rainwater harvesting and wet garbage composting have helped them get 10 per cent discount on annual property tax.
Vimannagar being a water scarcity area, most residents face water shortage during summer and have to rely on water tankers. But thanks to this society's rainwater harvesting project, they do not have to depend on tankers. After starting the project, the society could get water from the bore for almost 30 minutes a day and now the yield has increased.
Dalvi said that since there are 57 flats, the quantity of kitchen garbage is considerable. This kitchen garbage is segregated at the kitchen level as wet and dry garbage. Wet garbage goes into society compost pits. He told that the society gets manure from the pits every six months.
Dalvi told that the society has also concentrated on saving electricity and has replaced 135 tube lights of 40 watts in common area in the society with 10 Watt CFL bulbs.
He added that this initiative has helped in bringing down the electricity bill by 35 per cent.
"Since two years, we have also started making Ganesh idols using clay," he said.
Dalvi added that National Water Academy at Khadakwasla has included visit to our society as a part of their course syllabus. Many societies in Pune city have visited our society to take a cue for RWH.