Ruckus disrupts hearing; deferred to May 19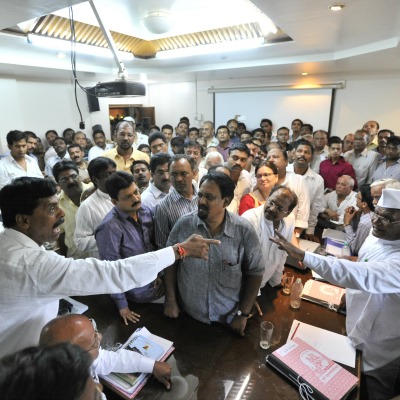 Pune: After opposition parties stalled hearing of suggestions and objections on revised development plan (DP) on Monday evening, dubbing the entire proceedings to be as illegal, the hearing has been pushed back to May 19.
The committee of four government-appointed members and three members from standing committee of the PMC had been appointed to conduct hearings on the revised DP. There are 87,000 objections raised by citizens to this revised DP. Soon after the committee meeting commenced, Shiv Sena city unit chief Sham Deshpande and Ajay Bhosale, corporator Prashant Badhe, Gajanan Pandit, BJP corporators Mukta Tilak and Dilip Kalokhe, BJP leader Ujjwal Keskar along with other citizens reached the location and objected to the hearing.
The Opposition leaders pointed out that after announcing the date for hearing there has to be at least an eight day cooling period to let citizens make arrangements for attending the hearing. Notices for the hearing had been sent via a private courier company instead of the postal department.
After heated exchanges between the planning committee members and the opposition, the hearing has eventually been postponed.
Addressing a press conference, Deshpande and Badhe said that every citizen has to be heard by the committee. Committee member Chetan Tupe said that the opposition wanted to create obstacles in this process. The standing committee chairman Bapurao Karne Guruji informed that the hearing will now commence on May 19 for the scheduled areas, as against May 6, 7, 8 and 9 as specified earlier.