Decides to build houses for hailstorm-hit farmers of Indapur Taluka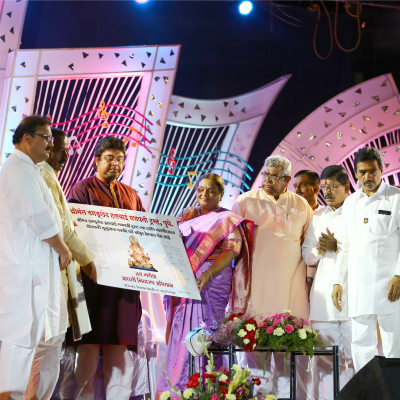 Pune: Heavy rains and hailstorm in the month of March played havoc in the entire state. Worst affected were the farmers whose entire crops were damaged and those of Nimgaon Ketaki in Indapur Taluka were no exception. After several NGOs came forward to help hailstorm-hit farmers, now Srimant Dagdusheth Halwai Ganapati Sarvajanik Ganeshotsav Mandal Trust has decided to build houses for 12 hailstorm hit farmers from Nimgaon Ketaki (Taluka Indapur) in Pune district.
After a request made by a local ganesh mandal in Nimgaon, the Gram Panchayat took the decision to request Dagdusheth Halwai Ganapati Mandal Trust for help. "Initially 12 families of farmers were considered however eventually 15 families were identified that needed immediate help", informed Dagdusheth Halwai Ganapati Mandal president, Ashok Godse while he was addressing an audience present for the inaugural function of a music festival organised by the Dagdusheth Halwai Ganapati Trust on Gudi Padwa.
Trust treasurer Mahesh Suryavanshi said, "A total of 15 new houses admeasuring 325 to 350 sq ft would be built. The trust would give around Rs15 lakh." He empathized with the families who had lost their sole bread winners as well as precious cattle. The trust has decided to adopt five students from such families and would bear their educational expenses. Even the state election commissioner Dr Neela Satyanarayan had shown her interest in sponsoring one of these five students. She expressed her desire while speaking at the same function in the capacity of chief guest.
Suryavanshi added, "The plan of the proposed houses was handed over to representative of the village Appasaheb Chandane. The houses would be handed over to farmers in one month."