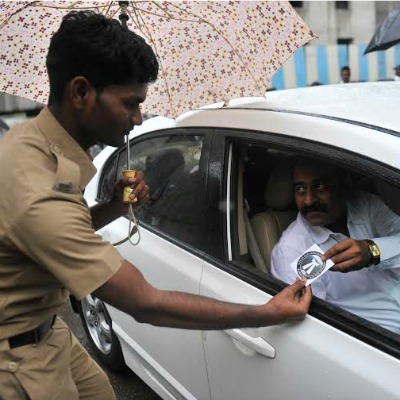 Pune: After the low intensity blast that shocked Pune, lawyers have started taking steps to secure their premises. The Pune Bar Association (PBA) has formed a court security committee following the recently low-intensity blast which took place at Faraskhana police station on July 10. In the first step towards enhanced security that started from August 1, the litigants have to park their vehicles outside the court premises while the lawyers are provided stickers on the car with codified numbers on it. The proposal for securing the premises of Shivajinagar court, spread across 13 acres of land, with CCTV cameras is still pending.
The court security committee is headed by Principal district judge Kalidas Wadane and consists of five members including two additional district judge. At the end of July, the Deputy Commissioner of police (Zone I) M B Tambade along with lawyers had a meeting and carried out a survey in the court premises.
DCP Tambade said, "The litigants two-wheelers will be parked outside the court compound wall while the four wheelers will be parked on the other side of the road. Apart from internal changes in entry and exits, we have also diverted the traffic and made it a one-way route."
Vikas Dhage-Patil, president of Pune Bar Association President said, "The installation of CCTV cameras to be installed in court premises proposal is amounting to Rs1.93 crore and this file is pending in the Mantralaya. The sanctioned staff for the court is total 126 policemen but only 55 policemen are present. Shivajinagar court is on the hit list of terror attacks since 2010 and everyday over 50,000 litigants, lawyers, judicial staffs and under-trial prisoners are brought to court turning it into a major concern for us. To overcome the issue we had a meeting with DCP and it was decided that now judicial staffs, policemen and lawyers' vehicles will be permitted in court premises."
He added, "Such vehicles have stickers and codified numbers. The policemen have data of such codified numbers of owners of the vehicle and the lawyers name."
Lawyer Satish Palwan said, "There are four gates and anyone can enter and exit the premises. So it was difficult for the police to keep a tab on the number of vehicles and inspect them. For policemen, we have kept vehicle entry from gate number 4, which is near Shivajinagar godown and vehicles will move out from the front gate, that is number 3, to the road leading to Kamgar putala. Litigants cannot enter gate number 1 and neither their vehicles will be permitted. We have written a letter to State home minister R R Patil to sanction modern weapons to policemen along with vehicle detector machines."