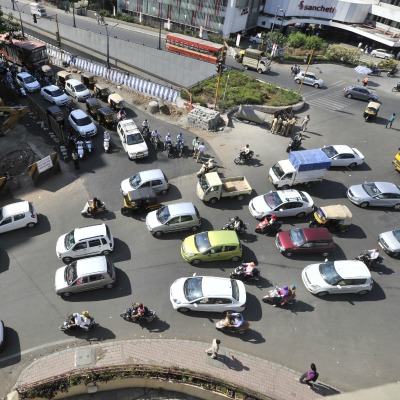 Pune: Crossing a mere 150 metres to reach the college campus has become a dangerous task for the students living at the College of Engineering (CoEP) hostel, off Ganeshkhind Road. Owing to continuous traffic movement, student life is put at risk. With the semester exams underway, college director Anil Sahastrabuddhe has written to the Pune Municipal Corporation commissioner and traffic department asking them to make some consideration for the students to cross the road.
"At least 2,000 students have to cross the stretch twice a day since semester exams are going on. We want some arrangements by the traffic department to ensure the vehicular movement is regulated and a minimum of 15 seconds of gap is ensured every 3 minutes for the students to cross the road safely," he said.
Hostel authorities said that few months back, a student met with an accident and hurt his knee on his way from the college towards the hostel. This prompted the college authorities to heighten safety of their students by appointing guards, who carry a red flag and stop the vehicles when students walk towards the college. But the guards have complained to their company, stating there is a risk to their life as well. "The guards do not want to do this duty anymore. Sometimes buses, cars and other vehicle owners increase the vehicle speed on purpose and hurl abuses, when they are asked to stop. The guard have often had close shaves," said hostel rector, Nitin Mohite.
After such incidents, many students avoid crossing the road alone, especially during peak-traffic hours. "We always walk across either with a guard or in a group. The traffic does not slow down even when there is a group of people trying to cross. There are no speed-breakers to control the vehicle speed on the full patch of the road," said Archit Moghe, an electrical engineering student.
"There are moving vehicles even when the signal is red. The traffic regulation is very poor and hardly anybody follows any rules," said Akash Varude, pursuing third year of engineering.
First-hand experience
When talking with the hostel students, they insisted that we should try crossing the road. To realise the students' plight, we walked over to the college from the hostel. Though when the signal near Sancheti chowk was red, cars and buses which did not stop, at it is a little scary when a bus ran past us closely, at a high speed.