Speeding truck rams into private bus; truck driver dead while 35 passengers survive.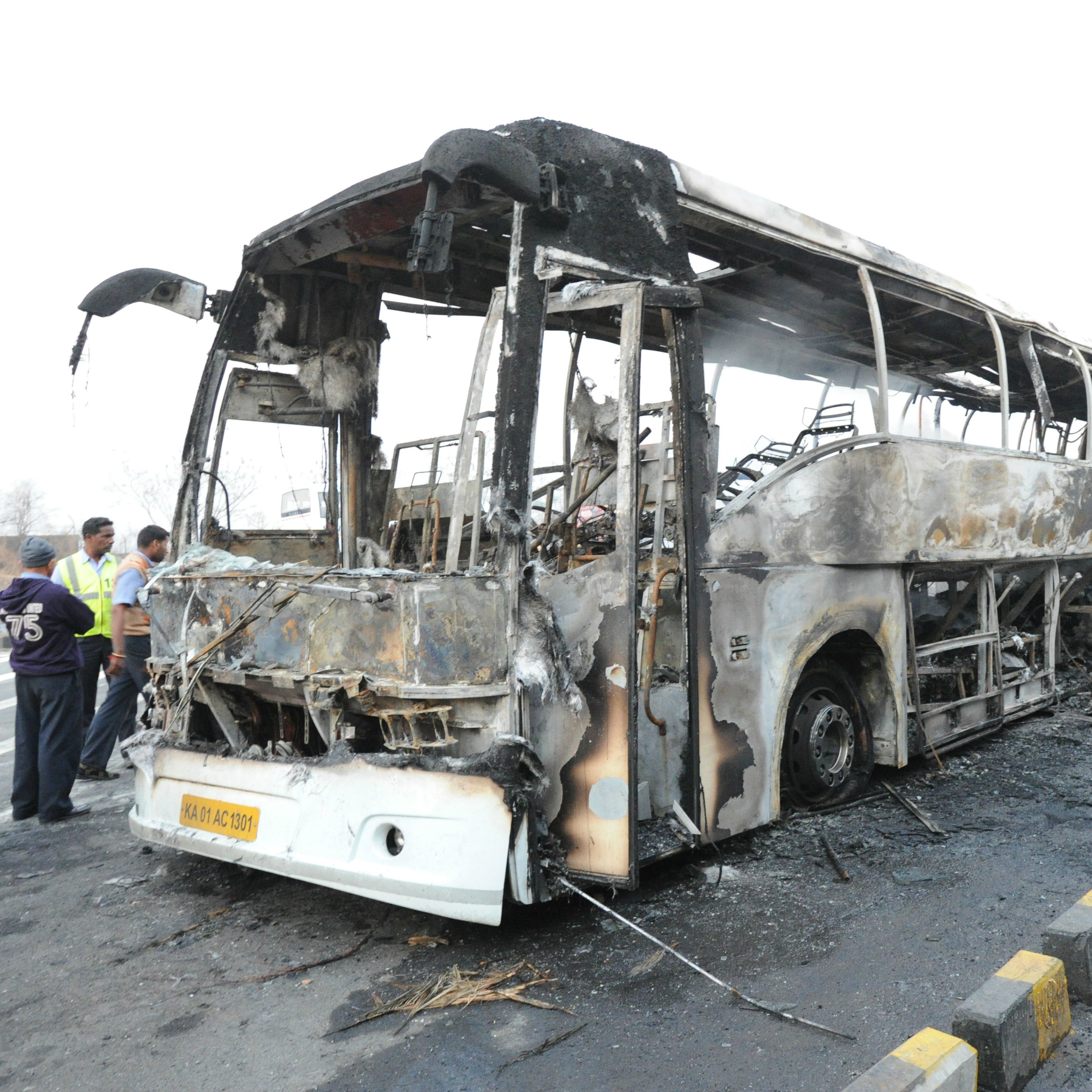 Pune: Thirty-five passengers travelling onboard an SRS Travels bus had a miraculous escape when a speeding truck rammed into the parked tourist bus which had broken down near Urse toll plaza on Pune-Mumbai expressway on Thursday.
Passengers of Bangalore-Mumbai bus (KA-01-AC-1301) had alighted from the bus when the truck rammed into it. The incident took place at 4.20 am.
The bus had stopped near the Urse toll plaza due to a technical snag in the AC belt.
About 15 minutes later, the truck carrying metal utensils and sheets rammed into it from the rear.
Such was the impact of the collision, that both the vehicles caught fire instantly and charred beyond recognition.
While the truck driver died on the spot, all the passengers escaped without any injuries. Narrating the incident, driver of the bus Rajendra Kulkarni said, "Ten minutes after I had parked the bus by the side of the road, I heard a big noise. I was shocked to see that a truck had rammed into my vehicle from the rear."
He added, "Both the vehicles had caught fire. I first ensured that all the 35 passengers were safe and then informed my office. Another bus was dispatched, and all the passengers were sent to Bangalore."
Senior police inspector of Talegaon Dhabade police station Vitthal Shirsagar said, "It took more than three hours for three fire tenders to douse the fire. The driver of the truck, who was plying at high speed must have dozed off, due to which he was unable to see the stranded bus. A crane was brought to move the truck aside. Since the driver was travelling alone, we are still trying to trace the details of the truck and since the vehicle had burnt down completely, we have no means to identify him." Meanwhile, the Pune-bound traffic was affected badly for more than three hours. Shirsagar said that that till the fire was brought under control, the vehicular movement was completely stopped. "At 5:30am, the vehicular movement on E-way resumed to normalcy," he said.