Std IV student from govt school hurt on upper arm, lower back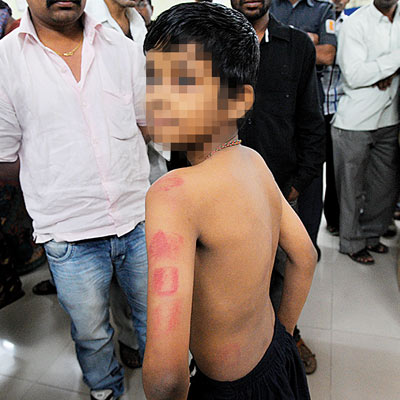 In yet another incident of corporal punishment, a nine-year-old boy studying in a Dapodi-based government school was beaten up by a lady teacher on Monday at 4 pm.
he police said that prima facie the student had passed lewd comments against the teacher and thereafter the student was assaulted by the teacher in a classroom. The student has received injuries on his upper arms, lower back and other parts of the body. The injured student has been identified as Vikrant Sukate (9), a resident of Bhosari.
According to the police, Vikrant is currently undergoing a treatment at Yashwantrao Chavan Memorial Hospital. He studies in Std IV in Hutatma Bhagat Singh Vidya Mandir in Dapodi. Vikrant's father works as a driver.
Vikrant's school timings are from 12 noon to 5 pm. The incident took place at 4 pm when another student complained said that he had passed some lewd comments against the teacher, following which the teacher scolded him.
Thereafter, the teacher started hitting him with a wooden stick. After the school got over, Vikrant went home and complained to his parents about the incident.
Vikrant's father Vilas told dna, "Vikrant is a bright student. He has received injuries on his hands, legs and back. Is this a way to punish the students? I was at my workplace when my wife called me and narrated the incident. Vikrant was unconscious and both hands were swollen. He was not able to sleep due to the injuries."
When contacted, senior police inspector Suresh Kekane of Bhosari police station said they were probing into the case.
Kekane said they came to know about the incident in the evening.
"We came to know about the incident from hospital authorities in the evening. We immediately sent our team to the hospital. We will arrest the teacher after recording the statements of the students and the victim. Our investigations are on in the case."