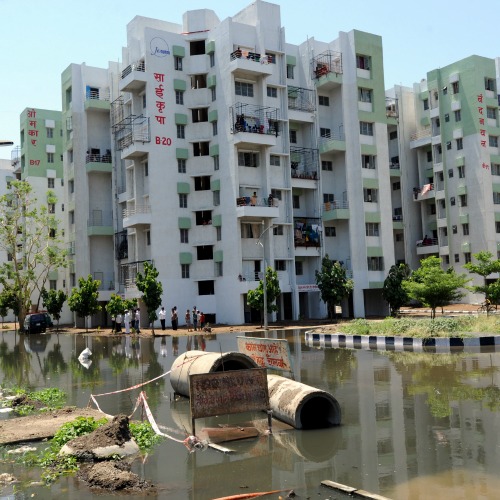 Pune: It is not a beautiful lake but dirty sewage water that is following through residential societies built under economical weaker section (EWS) scheme at Chikhli. This scheme was inaugurated by central minister Selja Kumari and deputy chief minister Ajit Pawar only four months back.
In the name of affordable housing, 150 apartments that PCMC has sold at Pradhikaran, Chikhli in December 2013 are in a sorry state. Four housing societies at Pradhikaran have been immersed in knee-deep sewage water for over a month. The residents claim that the water comes from clogged pipelines from PCMC's sewage treatment plant nearby. Even the repeated complaints to the PCMC officials have yielded no results.
Vijay Shevale, a resident of Sant Krupa Housing Society facing the problem said, "These buildings were immersed in sewage water even when we received possession of the houses in December. The officials assured us that they would solve the problem. But even after four months, there has been no change in the situation."
The water has clogged around the drinking water tank and at the entrance to the colony. It has become a breeding ground for mosquitoes. Shevale said the residents found snakes in the water last week. Naturam Desai, resident of Omkar Housing Society, another building in the complex said, "Our children should be able to play in this area but we are living in filth. The vicinity stinks and there is moss on the floor."
Speaking to dna, Sanjay Kamble, executive engineer at the PCMC assured that the problem will be sorted out by the end of this week. "Our team has been working on this since a month. We are trying to divert the water by installing new pipelines. It will be sorted before the monsoon sets in." he said.